Q&A with UGLYBUTBROKE
We sit down with the creative director and photographer lensing your favourite artists across the globe. From Yung Lean, A$AP Nast and Aminé to U.K. talents Slowthai and Jorja Smith - Nina Nagele's photography is truly a sight to behold. She even blesses our readers with a playlist
When did you start shooting and what made you get in to it?
I think I got my first camera when I was 14 so I started to take pictures of my friends - mostly some of those classic tumblr type of photos LOL. But that was when I realised that every single photo you take is so unique to itself. And I think that already fascinated me back then. But I stopped for a few years cause I was busy being a cool rebellious emo girl. I started again when I moved to Berlin cause due to my job I had the opportunity to meet amazing people and I couldn't let that pass without capturing their story.
We notice most of your work is shot on film, what's the reason for this?
I don't even know exactly tbh. I tried shooting on digital a few times but I was so fucking annoyed of the post edit and the endless amount of the pictures. I just couldn't decide which pictures I should choose. When shooting on film you don't have infinite options, you have to think before you shoot. I think I like that. I like the fact that the photos is basically done after you develop them. You don't need any touchups or edits and there aren't endless options of that one moment. But I would love to have the technical skills and stamina to shoot on digi :-)
All your work has light dreamy feel to it. Do you make a conscious effort to make sure all your work is uniform?
Not really, I think it happens automatically. It's the way I see people, the way I want to picture them. Also it's I think v technically: I mostly use the same film, same camera and I prefer shooting portraits in real sunlight - so that's already something that makes them appear similar I think.
You've photographed some really big names. Do you have any personal favourite shoots?
I think slowthai was one of my favs. We've been to his house in Northampton and had the whole afternoon to take pictures. Some of his friends where there too and it just was the most relaxed shoot I ever had. It was mad fun, all of them were so sweet and I felt very welcome.
Aside from your photography we know you worked at splash! and are now the creative director for MELT fest. Have these jobs roles shaped the way you approach creativity?
I think so yeah. The past few years I learned a very creative way of problem solving. Since all the things you do have consequences for a lot of people, there is a long way of working out ideas instead of just going for it. I think that is very helpful for a lot of other projects. Though I find it very liberating to have my photography on the side where I don't have any limitations.
Do you have a preconceived idea of what you want you want shoots to look like before you're there?
Most of the times I do. But I like it more when I don't. Sometimes when I was shooting artists for a magazine, I had a 10-15mins time frame, in places I have never seen before. So you have to improvise and that's the most fun.
Is there anyone who haven't worked with yet who you'd really like to?
I think there is not THE ONE I really want to shoot. There are so many people out there who are super inspiring I might not even know about. So I'm excited about every one I get to meet and have in front of my lens, talking to them, hearing their story.
Do you have plans for what you're going to shoot first once the Covid pandemic is over?
I'm working with Crack Ignaz, an Austrian artist on his album release. So that's the only shoot I'm planning right now.
We can see from your Instagram that you're very stylish. Does your personal style inform how you shoot?
I think so. I'm not sure how tho. I'm very interested in fashion cause it has always been a great outlet for my little weird personality. Same with photography. So the probability that these two go together is pretty high.
We know you're based in Berlin but shoot in different countries. What's been your favourite place to travel to shoot?
Def London. I have so many creative friends there that it's always more of a gathering than work when I shoot there. It's amazing to have all these amazing people around you to work with and get inspired by. It's a whole different vibe there.
Which artists are you listening to at the moment?
Hardest question, cause I'm listening to so many people. I'm super into Jeshi's new release. I'm still listening to D'Angelo's Voodoo a lot. But my heavy routine are the obvious ones: Frank, Tyler, Earl, 070 Shake, Ama Lou, Solange. But there are soooo many more, here's a playlist maybe that helps a bit!
Keep with Nina's work via her Instagram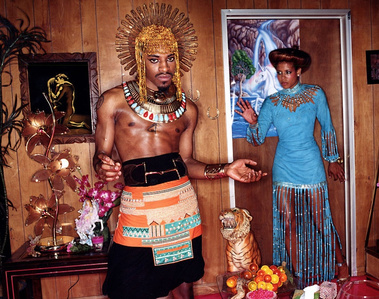 You many also like...
After the hugely successful release of Young Thug's So Much Fun one lyric has captured the imagination of listeners.