Had To Wear The Dress 'Cause I Had a Stick
After the hugely successful release of Young Thug's So Much Fun one lyric has captured the imagination of listeners.
On the opening track of So Much Fun Young Thug raps "I put on my brothers, I put on my bitch. Had to wear the dress, 'cause I had a stick". This line references the album cover for his 2016 mixtape Jeffery which features Thug wearing a dress by Italian designer Alessandro Trincone. Thug drew criticism but probably even more praise for the move. Many credited him as a pioneer for diversifying the conception of black masculinity and the move undoubtedly has given way to subsequent artists whose style flouts typical gender roles. Fashion and music co-constitute each other massively and what is palatable within mainstream rap usually precedes fashion trends. Sometimes for the better, such as in the case of Tyler the Creator and to a lesser extent Odd Future who undoubtedly have had the biggest influence of youth fashion in the past 20 years. Sometimes for the worse, like in the case of Pyrex vision or VLONE. The less said about the style trends they bred the better. Like music, fashion is cyclical and this is not the first wave of rappers we have seen who are willing to throw away the shackles of performed masculinity through dressing. Whilst Thug's comfortability with exploring gender fluid clothing should be commended, he is by no means the first. We decided to round up some of the best gender bending fashion looks from male rappers over the years.
From his video visuals to dress sense, Busta Rhymes has always been a multifaceted expresser of creativity. Videos like the brilliant Gimme Some More bear testament to this The 1999 VMA's saw the rapper born Trevor Smith (an ironically ordinary name) adorned in a customised sleeveless trench vest. The subsequent photo with Martha Stewart is a work of art in itself just for it's sheer randomness. Other Busta Rhymes award show looks have included dresses, kimonos and an outfit entirely made of velvet. His more recent outfits have certainly been toned down but not his confidence in past decisions. Talking to Complex when asked about the social media reaction to his recent outfit at the BET awards he stated "One thing people have to remember about Busta Rhymes is that if I ever really gave a fuck, I wouldn't be the same dude that everybody has grown to love 22 years later".
Photo: Djamilla Rosa Cochran/WireImage
Perhaps one of the most iconic images in hip-hop, Cam'ron's NYFW look from 2002 takes it's rightful place in the annals of history. The early 2000's was a strange time in rap for men's fashion. An era when nothing was more stylish that a t-shirt that could comfortably cover a Ford Focus. In the midst of this absurdity Cam'ron emerged after a Baby Phat fashion show. Baby Phat was a subsidiary brand of Phat Farm, designed by Kimora Lee and owned by her then husband Russell Simmons. A forgettable as Baby Phat proved to be Cam'ron's head to toe pink outfit, complete with matching pink flip phone has stood the test of time. In 2016 Killa Cam released the Cam'ron x Reebok Ventilator Supreme Fleebok 2. Proving his relevance in streetwear and withstanding synonymousness with the vibrant shade of pink. The silhouette of Cam'ron's wasn't particularly effeminate, the mink fur paired with the flip phone is certainly a look that would previously be thought of as one for the ladies. Especially in hot pink, as we have a strange habit of attributing colours to gender.
Photo: The Face Magazine May 2004
I'm sure anyone reading this is by now questioning how any rundown of extravagantly dressed rappers has not featured Andre 3000. We decided to save the best for last, as since the late 90's 3 stacks has been pushing fashion boundaries like no other rapper. The image shown above is an exert from his 2004 cover story with the recently re-released The Face magazine. Honestly, picking out just one image to encapsulate his exuberant style would have been as impossible as picking his vest verse but this seemed appropriate for a few reasons. The homage to Egypt aptly represents the Afrocentricity that is spinal to his persona. The eye make-up and skirt like silhouette demonstrate his comfort in aligning to a more androgynous look, which has not gone without criticism. OutKast's incredible 1998 album Aquemini features the track Return Of The Gangsta' on which Andre raps "Return of the gangsta thanks ta', them niggas that get the wrong impression of expression. Then the question is Big Boi what's up with Andre? Is he in a cult? Is he on drugs? Is he gay?". The song itself challenges the idealised persona of being "gangsta" within rap music, and points out that most of the criteria are actually detrimental to all parties. Within rap there are few more celebrated and respected emcees than Andre 3000. This serves as wonderful proof that however you choose to present yourself, people respond to good music.
Conservatism and homophobia are prominent in hip-hop. Which is strange considering it's origins are rooted in protest to other forms of systemic oppression. Groups like N.W.A and Public Enemy exemplify this. There's also a strange duality in the way that flamboyance is suppressed in a genre where images of ostentatious wealth and luxury have been rife. The pick and choose nature of when and how it is appropriate to express oneself within rap makes very little sense but is undoubtedly there. Young Thug is not the first to reject the illogicality, but he and all the predecessors who have done the same thing deserve credit and admiration.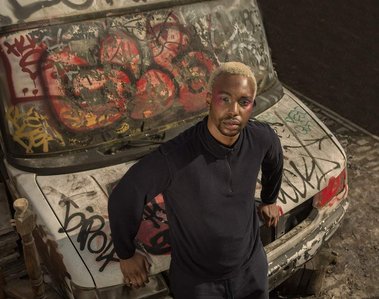 It's the M.I.C on the mic!
We catch up with the emcee superman punching through grime's glass ceiling. Find out what has fuelled this exciting, polarising, Nintendo loving enigmatic new talent that has everyone from NME to JME and Tim & Barry paying attention.