Q&A with Vanessa Maria
No Boundaries, alike to the name of the talent agency that she co-founded, is very much the motto that Vanessa Maria lives by. A DJ, broadcaster, creative producer and now marketing specialist- the sky is far from the limit for this young extraordinaire.

But this isn't all that she has gone on to create, Vanessa Maria has always been an individual that championed inclusivity and awareness. While completing a degree from the university of Bristol where she was studying psychology, Vanessa was a Mental Health Representative where she then continued to advocate for the dismantlement of the stigmatisation of mental illness and personal well-being. From then, the all-round creative went on to lead successful campaigns surrounding mental health amongst students alongside co-producing an award-winning documentary. Her talents, however, are not limited to producing, directing and writing- she has also excelled as a DJ and wants to lift other marginalised individuals in the process through Mixed Nights, yet another platform that she founded in hopes to "to introduce more female DJs into electronic music," and helping individuals build their confidence. Gaining support from the likes of Boiler Room, Mixcloud, BBC, BBC 1xtra, Mixcloud, Notion, Foundation FM and many more; Vanessa Maria has broken the glass ceiling with her continuous social and mental health advocacy through creativity and beyond. With this in mind, we just had to catch up with her to talk about her new position at SONY, the inequality of mental health help, and her continuously inventive ventures.
When did you begin to notice the gap between mental health care for white students and students of colour?
As soon as I started University I realised that Black students were not represented in the support services. The University of Bristol's Mental Health and Wellbeing Survey (2018) found that BME student's biggest barrier for accessing support for emotional or mental health problems was the feeling that "no one will understand". This barrier was experienced by 32% of BME students compared to 21% of white students. Many Black students have suggested that much of their mental health woes exist as a double burden in higher education institutions, as they often regularly combat struggles related to racism, on top of whatever mental health issues they may have. Often these are as a result of racial attitudes of the white majority around them. Black students did not have access to therapists that looked like them, there was a lack of staff that understood their experiences and many students felt isolated because of this.
What prompted you to incorporate that into your DJ' ing?
I have always been passionate about music so it felt natural to merge music and mental health together. Once I started DJing, presenting on radio and meeting artists I realised there was a huge problem in the industry. People are really struggling with their mental health with the constant need to stay relevant and popular on social media. Trying to "make it" in music is a huge amount of pressure; the competitive nature of the industry, its fast-pace and inauthenticity can feel overbearing at times. That's why I champion music and mental health. I feel like it's my calling to make the industry a better, healthier place for everyone whilst pursuing my individual personal goals.
Speaking of which, Mixed Nights seems like a very unique yet rewarding venture. What's the most rewarding aspect of it? Talk to us about the inspiration and process behind the project.
Mixnights is incredible- I actually completed the program myself! It's a nine-week course, consisting of eight sessions of two-hour evening classes, where our DJ mentors teach the basics of mixing on either vinyl or CDJs. Each course culminates with a showcase event at a local venue, where the students are given the opportunity to play their first DJ set in public. Classes are designed for absolute beginners or those who have some basic skills but want some extra support and help to build confidence. The project started in Bristol and has now branched out to London. The aim of Mix Nights has always been to introduce more female DJs into electronic music, both locally in Bristol and further afield! I'm honoured to be a part of the team, the work they are doing and have done has already had such a huge positive impact in the industry and I'm so excited to see what the future holds!
Covid-19 has proven to be a very mentally trying time for a lot of people, especially as we enter the darker season. How do you avoid burnout and keep upbeat during this time of year?
It's been such a difficult time especially mentally. For me, running is my saviour! I run 5k every day; it helps me to let go, de-stress and stay fit. I am also a big caller- I'm always on the phone. I am naturally very social, so I make sure I check in with a couple of people every day. Talking to your friends and being honest about how you feel is so important. Staying active and getting out of bed before 8:30 am every day also helps me with structure! Having a routine is key and a part of my routine is rest and downtime- lighting candles, manifesting, reading, Netflixing- I'm with it all! The final major key is taking vitamin D tablets daily- especially in this grey England!
What are you hoping the future of mental health looks like?
Inclusive, accessible, and representative mental health support for everyone, especially marginalised groups of society. Proactive measures and solutions which tackle root issues. Cultural shifts which prioritise wellbeing across all areas of society. The demise of capitalism.
Huge congratulations on the new role at SONY! Are you able to tell us anything about what you'll be doing there?
Thank you so, so much, I really appreciate it. I honestly didn't expect to get the job so it's still a shock! I will be working in digital marketing for Black Butter Records- I start in Jan!
Your career so far has been unbelievably exciting, do you have any specific highlights?
It's been a rollercoaster!! Highlights would have to be interviewing Sir David Attenborough, playing Wireless, guest mixing on 1xtra for Snoochie Shy and bagging a job at Sony!
Article written by Ashley Morris
Photography by Ruby Walker

Follow Vanessa on Soundcloud, Twitter & Instagram

Check out No Boundaries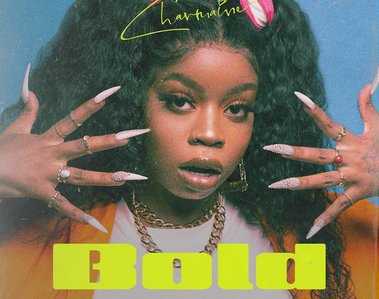 You may also like...
Following the release of BOLD we interview Charmaine. The Toronto native seamless blending sensual RNB with snarling raunchy raps