Q&A with Taneshe Oliver-Lodge
We chat to the groundbreaking emerging designer channeling her Caribbean heritage and infusing Black British history through her stunning garments
Taneshe Oliver-Lodge embodies everything that in wonderful about fashion. Conversations about the industry's merit have rightfully intensified over the past decade. From fast-fashion's impact on the environment, the lack of ethics in manufacturing chains characterised by poor garment worker conditions and low pay, to issues of cultural appropriation, body dysmorphia and more - I myself have to admit I have become disillusioned with the industry I was once so keen to be part of. Every now and then a fresh talent comes along and reminds us why we fell in love with this thing in the first place. The plurality of Taneshe's soulful designs (as political as pageant) serve as the perfect antidote to a fashion sphere that is often myopically driven by profit. The short life cycles and throwaway culture consumerism that punctuates our online purchases is perfectly riposted by her graduate collection Daughter of Diaspora. We Belong Neither Here Nor There . Drawing inspiration from multiple generations of women in her family, post Windrush Black-British history and her diasporic motherland Jamaica - it is no exaggeration to say that despite Taneshe's young age, her work has been centuries in the making. Amidst her busy schedule that includes finishing her debut collection for Graduate Fashion Week (where's she's up for 3 awards no less) we managed to grab a few words from one of fashion's brightest burgeoning stars.
Your collection inspired by Lover's Rock really caught our eye. How central is clothing to Jamaican identity and what do you think Jamaica's impact on U.K. fashion has been?
I think firstly, I like to acknowledge the huge impact Caribbean migrants known as the Windrush generation had on the UK when they came to rebuild the 'mother country' circa 1952, post-World War two. They came to Britain and worked in industries such as manufacturing, public transport, and the National Health Service and helped to make Britain what it is today.
The parameters of citizenship in the British empire are always moving. Whose body is considered a citizen if not those who fought for, rebuilt and sustained british economy in the 20th century? https://t.co/Hhm2JXIgFI

— Mikai (@mikaimikai_) February 11, 2020
It is this question that makes the construction of belonging for the West Indian diaspora take on resonance. The idea of whose body belongs opens questions about fashioning and self-presentation, about gender and domesticity that become the central pillars of my initial research and final collection. Clothing is central to constructing identity as a Black British person/ Jamaican diaspora, respect for Black women is conditional and centred around a woman's ability to earn kindness and respect by adhering to the expected respectability politics through both the clothed body. This can be seen through photographs that depict how the Windrush generation were dressed when they arrived in their Sunday best outfits. (Suits, long dresses, conservative and modest). Jamaica has impacted the UK fashion through both music and culture.
We know you were awarded a scholarship with Harper's Bazaar, which included an internship. Could you tell us a little about your internship entailed?

During the 2nd year of my BA Fashion degree, I realised I had a strong interest in the technical and production side of fashion. This led to an internship in product development for a luxury womenswear brand. I was fortunate to have the opportunity to explore fashion journalism through an internship at Harper's Bazaar as both as a fashion and features/ editorial intern, which I received as part of my scholarship. This was an amazing opportunity to see how a fashion cupboard works from, requesting lookbooks from brands to attending a photoshoot for their women of the year awards.
You've also got a grad job lined up, could you let us know what that is?
My graduate job is at Matches Fashion working for their own luxury brand 'Raey' in production as a Quality Control Admin Assistant.
Fashion is one of the most expensive courses to do and careers to get into, which mainly disadvantages BIPOC. It's also an industry that maintains relevance by co-opting the culture of BIPOC people. What steps would you like to see the industry make to address this imbalance?
I received a scholarship from HEARST Harper's Bazaar X CSVPA which I am very fortunate to have received after a family friend passed on a post she has seen. I think creating a diverse set of students from gender, sexuality, ethnicity, and class is very important. This creates nuance and depth to studying a creative degree. It will also encourage universities and tutors to create a more inclusive and exciting curriculum with brands that are more interesting and not just surfing brands from Cornwall. There also needs to be an effort to provide representation through teaching staff whether that be permanent staff or guest lecturers.
I would also like to see an increase in uptake of BIPOC people onto fashion courses and encouragement for them to pursue a career within the creative industry. There is often a stigma and lack of understanding that a creative career is viable and there is opportunities/money to make. However, talking someone through the many different avenues you can take within the fashion industry will create change. This will help to equip them with the skills to work in the fashion industry and be confident in their abilities. I can speak only speak on education at the moment as I have not worked in the industry for a significant amount of time yet.
Designers like Priya Ahluwalia, Martine Rose and Paria Farzaneh have been super successful in translating their heritage to mainstream fashion staples. Who are some of your fashion inspirations?
One of my biggest fashion inspirations is Bianca Saunders. She is Black British of Caribbean heritage and has been able to create her own luxury fashion menswear brand. She touches on nuanced topics through her practice such as redefining masculinity by questioning 'what is the ideal man?'. Not only is Bianca Saunders very relatable for me, but she also provides representation to show that if she has been able to carve out her own lane within the fashion industry and receive awards and recognition for her work, why can't I? I am also inspired by Daniel Peters founder of the Fashion Minority report who launched a mentorship programme for BIPOC and other communities. Through the mentorship I have been able to expand my network and experience shadowing someone from a luxury fashion brand.
Who would you love to see wearing your designs?
Baroness Doreen Lawrence, Dave, Dr. Shola Mos-Shogbamimu, Dianne Abbot, Eva Apio, Kwajo Tweneboa, Mikai McDermott and Stormzy to name a few. Black British people who make an impact on society and give back to the community through both their work and platforms.
Where do you see your designs being worn?
I see my designs being worn by everyday people in everyday life. From the concept of my collection centred around belonging an identity, existing within a country which is often hostile shows we are taking up space. We are here to stay, and we will exist in these spaces. I want my garments to be worn and feel like the wearer is seen and understood. Often the lived experiences of BIPOC are too complex for society to understand, but we understand each other even if we are from completely different backgrounds. The collection can also be styled and worn in an array of styles, this shows there is something for everyone.
Article written by Martyn Ewoma
Designs by Taneshe Oliver-Lodge
Photography by Bethany Peters & Ofilaye
Creative direction by Holly Fulton & James Lambert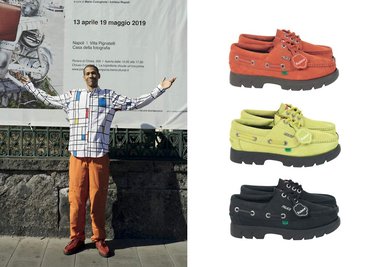 You may also like...
Check out our interview with London-based footwear designer Jess Dalton whose worked with the likes of Palace Skateboards, Kickers, and Dr Martens.
Wanna keep up to date with all things Sludge Mag? Sign up with your email address to receive updates on new articles, petitions and events.