Q&A with Jess Dalton
London-based footwear designer Jess Dalton has an impressive creative portfolio. Having worked with the likes of Palace Skateboards, Kickers, and Dr Martens, she has valuable and exciting creative experience which we wanted to tap into and share with our readers in this Q&A.
How did you get started in the footwear industry and what has shaped your creative career so far?
I jumped ship from fashion design to footwear to become a designer at Kickers around 6 years ago because I felt like the brand was at a real turning point. They had a history of working with lots of different collaborators that I could identify with like Henry Holland, Lazy Oaf, Christopher Shannon, etc. so even though I was apprehensive about switching disciplines I felt like it was a unique opportunity to make an impact as a young designer. Being given the trust to lead collaboration projects at such a young age and being mentored by so many amazing women in this industry has been what has shaped my early career.
You recently published a brilliant article providing advice for young creatives. How has your experience in your career enabled you to learn and to advise others on the same journey?
This article was so important to me for many different reasons, over the years I have worked alongside a lot of different graduates from all types of disciplines and have seen first hand the hurdles they have to overcome when entering the industry. When the pandemic hit I knew that this was the right time to share what I knew had helped me and to encourage young people not to be defeated by this curveball. My own journey into design has been a rollercoaster and I know what it's like to experience setbacks, every tip in the article I still use myself on a day to day basis. For me the most important thing for this piece was for it to be completely inclusive for all types of designers and all things you could do for free at home. A lot of fears graduates have around their future are sometimes more to do with mental barriers rather than physical, you are always a lot more capable than you think you are! Most of the time I think we already have exactly what we need but sometimes we need other people to encourage us and bring it out of us. Confidence is a skill, not a personality trait it takes time to grow and evolve.
Being half-Indian, how does Indian and British culture influence you creatively?
I've been really fortunate to experience a lot of different cultures from an early age, my mum is British and my dad is Indian from Fiji. This combined with the huge amount of global travel that is involved with being a footwear designer has really impacted my work and how I think as a designer. When you're from a mixed background you are already experiencing 2 worlds blended into one. This is something that has played a big part in my own personal aesthetic and design language as I love the clash of different cultures colliding.
What else influences or inspires you?
I am a big Rupaul's Drag Race fan! I love documentaries/series like POSE and Paris is Burning that break down the origins of drag culture also. In terms of personal style watching the evolution of Rihanna over the years has been inspiring - we genuinely don't deserve her ! Nobody has as much fun with fashion as badgalriri, Puma x Fenty is still one of my favourite collaborations of all time.
What is your favourite part of the design process?
Definitely the beginning when all seems possible! I love moodboarding and designing concepts. The story telling aspect is really important to me and this is something I obsess over like, 'what is the narrative?' 'why would someone want to buy this?' 'how will this disrupt someone's IG feed and make an impact?
One of your projects was with Kickers for iconic skating brand Palace. Was it difficult to design a shoe for two established brands which on paper seem quite different?
I definitely love the challenge of trying to establish that link between brands, working out what the synergy and connection is. The challenge with this particular project was 'how do you make a world renowned streetwear brand blend with a footwear brand predominantly known for school shoes here in the UK? LOL. For me the starting point was colour. I knew it had to hit different - I wanted to do a boat shoe pack for summer made up of citrusy bright nubuck leathers and because they are an awesome team, they were down for it !
Do you have a favourite project that you have worked on?
I think they all taught me something very different so for that reason I have no real favourite. Normally my favourite project is whatever I'm working on right now!
A lot of hyped footwear collaborations such as Clarks X Bape only release in men's sizing. Why do you think women are overlooked in the sneaker industry?
I think 'inclusive' is the new exclusive - that is the future of footwear. We need lots of different people in this industry, all types of frames of reference and experience. Sometimes the assumption is made that women have a specific frame of reference based on their own personal aesthetic. This is also sometimes enhanced by social media where it is impossible to show every facet of your knowledge and scope on brands that might be on your radar. To be fully inclusive we need to accept that everyone has something different that they bring to the table and sometimes we can't see that on the surface in the most obvious way.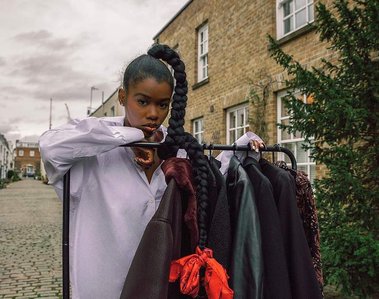 Yo may also like...
Missed flexing your fits during lockdown? That certainly didn't stop South-West London's Esther who's quite literally taken her rail on tour to showcase her style during Covid