Q&A with Louis Bever
Louis Bever shares his romantic portraiture series in ode to classic Arsenal kits. We sat down with him to discuss his career so far.
Louis Bever has had as unconventional a journey into being a photographer as you can imagine. After spending his youth travelling the world as part of military family and then studying law at Liverpool, his passion for photography eventually proved too effervescent to suppress. Cue a Masters degree in photography from Manchester School of Art which has seen him make the transition to become one of London's most sought after photographers. The warmth and joviality of his portraits bring a real earnestness to commercial photography. The often sterile fashion world has benefitted tremendously from his quirky style and so it's no surprise he's amassed an impressive client list including Ralph Lauren, Doc Martens, Universal Studios, Napapijri, The Face Magazine & The Face Magazine. His recent project Arsenal archive is an ode to Arsenal's classic football kits. We sat down with him to discuss his career so far.
Prior to the Arsenal archive you've photographed lots of people in football memorabilia. What is it about football gear that draws you to it so much?
It has to be the nostalgia behind all of the kits. Like most people, I am drawn to things that remind me of my childhood, and football has always been that. Growing up, I'd play rugby and football, and my dad would buy me an arsenal kit for most birthdays. Unlike most clothes, football shirts always had vibrant colours, eye-catching sponsors and a great fit. It would always add more of my personality into a portrait. It also makes the shoot fun, as I am constantly looking for new shirts to shoot new faces in.

Outside of football you've also done projects around skating, tennis and exploring with Napapijri. Was documenting the intersections of sport and fashion something you deliberately earmarked as a niche at the start of your photography career?
I never really enjoyed the conventional 'in a studio' shooting style. I can appreciate that style of photography, but I have always wanted to have fun on shoots. I got into photography through skateboarding when I moved to France when I was 12. I couldn't speak French when I arrived at school. However, through a mutual interest in skateboarding, I decided to learn French by taking pictures of our skateboarding. After that, sports slowly crept into my fashion work, allowing me to shoot outside and make the images more interesting. For example, putting skaters in Ralph Lauren Tennis and models recreating romanticism paintings for Napapijri. It's great fun. You never know, I may end up shooting in studios one day, but I hope to think I can continue shooting the projects I currently do.
Arsenal have had some truly iconic kits over the years. Do you have a favourite and what are your thoughts on jersey culture's explosion in recent years?
They are the most iconic. I'll tattoo that in Latin on my neck if I have to. My brother bought me an absolute banger for my birthday 4-5 years ago. It's a 1995 Home Shirt. The collar, fit and sponsor are just great. I can't believe people used to chop the collars off. Baffles me! I like the 2001 golden Sega away kit too. It's just great. These are the most iconic to me. However, the 2006 Highbury Home kit is excellent too. I could chat about these kits for England. Somebody called it 'blokecore' the other day, which I found funny. It's great as many people are becoming increasingly nostalgic and enjoying looking at many kits that remind me of their childhood. Unfortunately, like film cameras, some kits are flying up in price, which can be a kick in the teeth if you're after a specific kit. Just don't get me chatting about football shirts in the pub or on a date, as that's a conversational slippery slope.
You've got a MA in photography from MSOA. Lots of young photographers are unsure about studying photography versus honing their craft themselves. What did you get out of the course?
What a great question. I'm always torn with art school as it does have its pros and cons. Career-wise, art school didn't benefit me at all. However, I learnt so much technically and conceptually about photography. Therefore building a photographic identity through doing a master's was great as it has hugely influenced how I shoot today. The technicians, Al and Gareth, were fantastic and taught me everything about lighting, scanning, printing, etc. I also had lecturers that pushed me in the right direction creatively. Everyone is different; however, from a career point of view, just consistently taking pictures, meeting like-minded people and convincing yourself work will come in has been the most important thing. Being freelance isn't easy, yet remaining positive does help!
Even though your fashion photography is super effective at showcasing brands, your work feels more documentary than fashion. Would you agree with this observation and if so why do you think that's the case?
I watched great photographers like David Bailey, William Klein, Bill Cunningham, etc., who would shoot fashion in their way. They were stubborn in their craft, and I liked that. You will lose interest in photography if you follow trends. I always enjoyed documenting people, so if I came up with ideas that certain brands would like, I could create bodies of work that would look like my personal work in brands that I like. It doesn't feel like work if you enjoy doing the project. Creating a narrative behind a shoot is exciting and having a story around a campaign makes it stand out more. If I can make it as mad as my brain, that always makes me laugh.

You've lived in a few different countries, would you say this has influenced your approach to image making?
France has had the most significant influence on me. Although I am from a military family, we always had prints of Willy Ronis, Cartier-Bresson, and Rothko scattered across our army quarter walls. Bizarrely I have always been attracted to romance. Romance can be cityscapes, relationships, or warmer colours, and France lived up to its stereotype. Growing up with French people made me far more open to displaying this in my pictures. However, I apologise to those who have had to put up with me watching Midnight in Paris, Her and Lost In Translation over and over again. It has helped hugely, as being able to approach anyone for a conversation and picture has never been easier. I moved houses, schools and countries every 2-3 years. If you don't improve your social skills as an army child, you'll be more stuffed than a Christmas turkey. I always enjoy meeting people, which gives me more chances to take portraits.

Who would you love to photograph who you haven't already?
There are several people I'd love to shoot; however, Rod Stewart or Thierry Henry would be fantastic. Imagine shooting Rod in Celtic kits in the Scottish Highlands. That would be great. Thierry Henry wearing old Arsenal Kits in a French Cheese factory or on a French Vineyard. The burgundy kit with a burgundy. Great fun. Blink 182 would be class too. Anything to sway away from a 'conventional' shoot. If you are given an exciting person to shoot, make it fun and comfortable for both of you.

Lastly, are you working on any projects we should be looking out for?
I don't have a specific one in mind, but I am prolifically shooting portraits around London. I think they'll go into a project one day. Some people go to their favourite restaurant to relax or the pub, but I enjoy taking portraits in my living room with a cup of tea. It's the grumpy older man in me. I like seeing people smile when seeing the final image!
Photography by Louis Bever
Article by Martyn Ewoma
Follow Louis on Instagram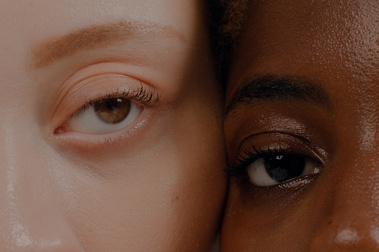 You may also like...
Radhika Muthanna's "Divine Femininity" is a photographic exploration challenging normative Western conceptions of femininity through striking portraiture.
Radhika Muthanna's "Divine Femininity" is a photographic exp Sign up with your email address to receive updates on new articles, petitions and events.