Q&A with Lordkez
We interview Lordkez. The sultry South African songstress talks to us about the new EP she's blessed the scene with Charcotta as well as her amazing music videos and the benefits of seeing music through a global lens
They say the best music is hard to pin down and that's certainly true of the sultry South African songstress that is Lordkez. The only thing that's definitive about this genre bending experimental artist is their quality. Their new EP Charcotta sees them showcase impressive musical dexterity as their silky voice glides across moody lo-fi, hip-hop and jazz beats with subject matter on everything from drug use to the beauty of nature, to the spirituality they share with her family. There's a real tranquility to their music which means it can be enjoyed as the backdrop to any situation, whilst still having the depth to really engage listeners when they're ready to prick up their ears and deep the lyrics. To put it simply, there is no circumstance which would not be enhanced by having this project as the soundtrack. We were lucky enough to chat to the artist behind the masterpiece.
Thanks for taking the time to speak to us. First and foremost, where does the name lordkez come from?
Thank you for having me on your platform. When I was creating my Instagram account a few years ago, everyone was calling themselves "King" and "Queen" and I didn't want to call myself either of those, because I am fluid and I identify with the higher version of myself.

It's impossible to define your sound, which we like. We imagine you had a lot of different musical influences growing up. Could you tell us what some of them are?
I am inspired by a vast amount of artists, from all genres. But, my major influences come from my experiences in music, like the house I grew up in, the church choir, the organ I plyted as a kid, the guitar, the piano, my creative team, the artists I work with etc. These are the major influences in my musical journey. However, artists I am inspired by include Erykah Badu, J.Cole, IAMDDB, Green Tea Peng, Burna Boy, J Hus Etc.

On Charcotta, was it difficult to make a cohesive body of work given how non-conforming your style is?
I think putting together a cohesive body of work is always a challenge, but I have a great team and my manager Vaughn who also executively produced this project, assisted me in piecing it together as a body of work, we actually did that in lockdown, it was a great time to reflect and build the narrative.

We know you hail from South Africa but your vocals have a bit of a London intonation to them. Where would you say this comes from?
I love the UK scene, from the music all the way to the art and fashion. I love the music coming out of the UK, so I think naturally I am inclined to include some of the UK nuances in my creative process. I see the future global wave of music culture stemming from both the UK and Africa.

Your music videos have always been on a super high production quality and have a real artistic depth. Our office particularly likes WAE. In the age of streaming why have you still put so much effort into your visuals?
I feel like all music needs a face and I see music videos as the face of a song, they add to the identity of songs, it helps people feel a little more for the music. I see them as art and art is all that I do.

Songs like Find Me In The Trees and Rain suggest an affinity for nature. Why does the natural world come up so much in your music?
Nature is the purest thing in life. We don't need to look far to find the power of the universe pulsating through our everyday lives. I don't ever want to do anything that isn't pure and honest and there is nothing more honest than nature.

What do you hope listeners take from Charcotta?
I hope they find that being vulnerable is strength and that finding yourself and healing is a beautiful journey, that isn't centered around the idea of a destination but rather the actual experience of the journey. I hope they know that it is beautiful to be who you are.
Stream Charcotta now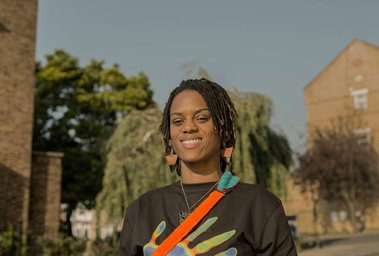 You may also like...
Read our exclusive interview with Roc Nation's newest signee Kay Young. She gives us the lowdown on her stunning new EP Middle Matters with insight on what we can expect from her upcoming album