Q&A with Jimi Da Killa
Hot of the back of his debut EP Cognac Arcade, which just hit 50,000 streams across all platforms, Jimidakilla drops his latest music video for Warning, with JavvyLuu directing and featuring Skinny Malone and Ted Loco on production. The video is true to Jimi's quirky style with a mix of vintage edits and modern shots and set in an actual arcade with probably lots of cognac. Cognac Arcade is a breath of fresh air in the UK rap scene, not really conforming to one genre or style Jimi takes influences from all different sounds to produce something fun and unique. Me and Jimi weren't able to sit down face to face thanks to the rona, so we've done an online interview to give you a feel for the killa.
Where did you find the inspiration for the album?
My experiences in life up until this present moment influenced the project. Family, relationships, education and my general lifestyle which includes over indulging in brandy. Musically, Ted and I wanted to create new sounds that haven't been heard before to present a solid all-round project. It's a perfect portfolio. I didn't dive in to the project with any direct musical influences which is the beauty of it. Everything you hear is 100% Jimi.
You've been making music since 2016 with Local Geezers, why did now feel like the right time to go solo?
I've always been working on solo projects but I haven't been as vocal about them. Behind the scenes I've spent a lot of time developing my sound, style and myself as a human being! It wasn't until last summer that I had the confidence and belief to start releasing solo music on a larger scale. That being said, I am still a Geezer. Our forthcoming project will be released this summer! Spread the word.
You study fashion at uni – how does your style influence your sound and vice versa?
Making music and being involved with fashion is a blessing, the fact that the two are heavily linked and overlap is so intriguing. My personal style will always represent my many moods the exact same way the music does. In terms of creating it just allows me to explore and keep my brain busy and occupied, which is important. I get bored easily.
You're very authentic and true to yourself in your style both with music and fashion, do you think there is pressure to be a certain way in the music world?
Pressures will find you in anywhere life, if you let things get to you. Its easy to compare yourself to other people on social media and feel down or disheartened. Personally, I don't want to feel as if I need to carry myself in a certain way just because I see it working for someone else, otherwise I'll lose my identity and originality. The most important thing is staying true to yourself and being proud of who you are.
Coming from Derby, having worked with rappers like Eyez and KayGee, how have you felt the Derby music scene has enabled you to get where you are today?
It took a few years for the Derby scene to understand the angle and direction of Local Geezers. Fast forward, and I feel like the city has got our backs, they are beginning to understand the graft and the bigger vision we have. In London people think the sound is refreshing and that's probably because it's manufactured in a different place. Oh, and I have a different accent. Big up the Derby music scene, as more artists emerge its a step forward for everyone.
What's next for Jimidakilla? Fashion line? World domination?
Haha, world domination sounds about accurate. Currently I'm working on writing and recording new demos for the forthcoming projects which I'm really excited for. As for fashion, who knows. I have many ideas in my head and many ideas on paper. I'm using the Covid-19 lockdown as time to look at the direction I want to take those ideas in, so watch this space!
Stream Cognac Arcade here
Words by Phoebe Patrick
Photos by Noodles, Dylan Mouloungui and Javvyluu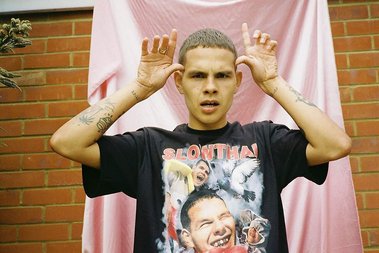 You may also...
We sit down with the creative director and photographer lensing your favourite artists across the globe. From Yung Lean, A$AP Nast and Aminé to U.K. talents Slowthai and Jorja Smith - Nina Nagele's photography is truly a sight to behold