James Olaloye tells me that rappers are like superheroes. Under the pseudonym of Jim Legxacy, the 22-year-old has rapidly generated his own powers – powers that successfully blur the scope of genres that fall within his singing, rapping, and producing. The inexhausted talent that he possesses is showcased in his latest project 'Citadel', which is set to be released on 3rd December. A project lasting only nine tracks, but one accumulating years of honed creative and musical skill, 'Citadel' serves to fit Jim into the very simile that he has created.
The Southeast Londoner gained his reputation for creative honesty and versatility with the release of his Dynasty Project and BTO EPs. With his own life experiences forming the blueprint for his lyricism it is clear he is not afraid to be vulnerable. On October 7th the release of the first single 'Cold Lewisham Roses' set the tone for Jim's upcoming EP, as well as magnifying the musical mastery he has previously exhibited. In an intricate fusion of afrobeats, indie and trap influences, 'Cold Lewisham Roses' allowed the artist to express the emotional abuse and manipulation stemming from a toxic relationship. On the inspiration for the song he tells me about a Nigerian artist called Teni - "I feel like, if I never discovered Teni, I never would have made this song". Emotional lyrical content is a quality that remains consistent throughout 'Citadel' – coating each track with a sensitive quality. Yet this content exists in a tension with Jim's insensitive, narcissistic statements of self – representing the duality of masculinity and hypersensitivity that resembles his own lived experiences. Jim Legxacy reveals an earnest account of growing up as a young black man in Southeast London while exploring the classism that exists in the unattainable Citadel (floating city) above. The brilliant, urgent accounts of Jim Legxacy debunk their façade - in true superhero style. I spoke to James Olaloye to find out more.
Congratulations on 'Cold Lewisham Roses, it's amazing. I have had it on repeat since it came out. It's a multitude of things and a lot of words come to mind when thinking about it – but how would you personally describe the single in less than ten words?
Vulnerable. It's a summary song, I would say it kind of summarises a time in my life.
Do these words behind the single reflect the upcoming project 'Citadel'?
I think, yeah. I think 'Citadel' kind of covers my life from the years nineteen to twenty-two.It kind of goes with the whole summarising thing. I think every song kind of summarises something that either I'm ready to let go or something that I'm kind of ready to carry along with me as my journey continues, throughout the human experience.
How did you become so comfortable expressing those kinds of personal emotions in your music?
I think it's always been there…. I've never been afraid to be someone that is vulnerable or afraid. Growing up I was just kind of afraid of expressing how I felt, and I felt like music was the first time that I could be like 'yo' and say how I felt…It's weird because I could say how I felt and express how I felt without getting advice. Because advice is kind of weird for me, it's a bit hard. When people say things back, I think that's what makes talking about my feelings really hard for me. And I felt like music, it was just me and just saying how I felt and then just getting on with my day… it's like therapy with myself.
Is it difficult to channel all these elements, say, into the two minutes and thirty seconds of 'Cold Lewisham Roses'? What is your creative process and how do you filter in all these different things?
Time is very important.It's a two-and-a-half-minute song pretty much but I started that something in late 2019 and finished it in June this year. I'm never looking at the full picture. I feel like often I'll be…in a studio session and people are making a song and they're like, 'yo I can already imagine a visual for it'. I'm like not even thinking about it. I'm just like, 'man okay like does this Hi-hat sound okay?'. I'm being so meticulous. When it comes to visuals then I'm like deep diving…it's always about taking my time with it and just making sure I can make every single element as strong as it can in the timeframe that I can.
Of course. I imagine this is even harder because of how Genre-binding your singles are. This genre-binding quality to your music shows you're not afraid to push boundaries. Where did this confidence come from?
That's a good one. When I was a kid I was always talking about art as just drawing... If you want to make stuff, it's pretty much just drawing and you know, I'm terrible at drawing… I'm like the worst drawer on Earth right. But when I was a kid, I always had these ideas and always wanted to make things. I didn't start making music till I was like eighteen. So, when I found music at eighteen it finally felt like I had a place to put all these ideas I had. So, there's not even time for me to be scared because I've got make up for all the time that I wanted to make stuff when I was a kid. I'm just throwing everything together and trying to mix it all and make it, still make it sound clean…and also getting deep into every genre and understanding like the technicalities of it and what for example makes a good Afrobeat song, or what makes a good drill song, what makes a good rap song…It's still like me just being very, very strict with myself and taking the time to understand that genre before I blend it with rap elements. You know I'm saying? Understanding all the cultures and being as respectful as possible.
Do you find it more challenging to be personally satisfied with your music because you're appealing to multiple different genres and their standards?
I used to be someone that wasn't very happy with the things I made. 'Citadel'…was the first product I've made that I'm like yeah, there's nothing wrong. I don't feel like I would go back and change a lot of this stuff, you know I'm saying? I think it takes a while for any creative to get to that point. But I think I was overly harsh on myself for a long period of time, and maybe it's because I'm maturing and maybe I'm just not as harsh on myself. But I'm definitely at a point where I can look at a lot of these songs to be like 'yeah man'. Like, I see myself in fifteen years hearing this and be like 'yeah, that's all right. I'm still happy with this.
Where did your initial music interest come from and how has it developed since then?
We played gospel and Michael Jackson and Bob Marley and all these artists and I would just be there, and the way it would make me feel I'd be like, man, there is something going on here and…I don't get what's going on but it made me feel so intensely. As I was growing up, I never really cared about music…maybe because of how intense it made me feel. I just kind of ignored it for a long time, I didn't really care too much about music until I turned eighteen… My friends put me on to rap music when I was like, seventeen or eighteen…to be fair, I hadn't listened to like any rap albums till like seventeen. I heard like my first Drake album at like seventeen or eighteen. So, I'm very new to all of this still… Initially, though, I knew music made me feel a certain type of way and I think it kind of scared me off it for a while, I was listening to like dubstep because there's no feeling there… Everything was just so intense to me. But now, it's just like yeah, I feel, I feel like I've kind of, kind of embraced the way they used to make me feel.
What about rap made you more interested in music and giving it a go yourself?
Rap is sick because rap is like, rap is kind of like superheroes to me. I don't know how to explain it right, but it's just a bunch of people from similar environments to me, they just kind of, you know, made it out by making things. I think that is just beautiful. When I first understood what it was, I was like 'oh shit, this is incredible'. And I started seeing it so, so differently. I was like yeah man this is it. This is what I've got to do. It then led to me retracing my footsteps like, you know I love rap, but I also love R&B and I love pop music - and I love all this stuff. And then it's like yeah, I can do all of this, you know? To be fair … when I look back it's pretty delusional at the time - you know a little seventeen-year-old guy who never took in music before was just like, yeah, I'm gonna make all of these it's going to be really good.
Did studying art direction at uni help you creatively, or were there ever moments of doubt for you in the degree?
Education… kind of stinks man, in my opinion. However, I studied art direction because I knew it'd be easy…So, I went to uni just so I could have the space to make, to do music all the time. I just got a degree on the side. But I ended up learning a lot of creative theories and a lot of ways to apply myself creatively… My first-year lecturer Mark really kind of took us through … how to integrate you know all kinds of things into art and … creatively problem solve, and I think that really, really assisted me in kind of the blending genres thing and how that worked.
What is next for you? At this stage, and what new additions, can we expect to see off the legacy that you're crafting?
"In terms of my sound and stuff…there's always been vulnerability in my music, but I think on 'Citadel' I wanted to turn it all the way up.
I wanted to turn it to the max and just you know, write about all kinds of different things in a certain way and kind of do more singing and, you know feel things more. It's always been a part of me but I kind of wanted that to be out a little bit more. I think I'm always gonna just have made very emotional music and always tried to convey how I feel.
Stay tuned for the release of 'Citadel' and the inevitable rise of Jim Legxacy.
Article by Amelia Kelly
Photography by Fidel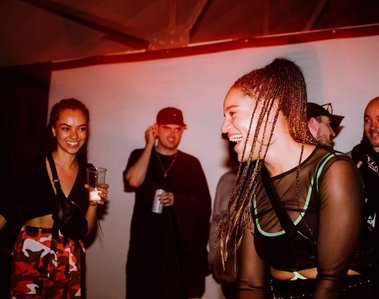 You may also like...
No Boundaries, alike to the name of the talent agency that she co-founded, is very much the motto that Vanessa Maria lives by. A DJ, broadcaster, creative producer and now marketing specialist- the sky is far from the limit for this young extraordinaire.