Q&A with Jewel Kaye
After years of contributing to Sludge Mag's growth Jewel Kaye joins the platform as creative director
Over the years multidisciplinary artist Jewel Kaye has been plying his craft as a designer, painter, stylist and creative director. As part of the Boys Don't Cry art collective he has seen his artwork featured in The Face and 10men magazine and displayed as part of Behind The Glass, an exhibition showcased at Central Saint Martins Museum & Study Collection. Though he has gone on to become an integral part of the collective, his inclusion began almost by accident. "I went to the first Boys Don't Cry group shows purely as a fan and I eventually got invited to join. I was super happy because I really loved all the artists who were part of it. I love their work and I really like the guys on a personal level also" he tells me.
Away from his easel he's also hit the catwalk for Kitty Joseph. The bright colours and flowing silhouettes mirrored his own style perfectly. His slight frame is often draped with a range of gender non-conforming outfits, characterised by bold silhouette juxtapositions. He marries super tight trousers with baggier layers up top. Plenty of frills and frays, rips and patches. Painted nails and lots of accessories and quirky headwear. Society is (slowly) opening up to the possibilities of life beyond strict gender binaries. He cites Young Thug as a pioneering figure in his own style choices. I wonder if his understanding of manhood shapes his art approach at all. "I think the creative world is tricky for anyone of any gender so you got to believe in what you're doing 100% because you can see something that no one else can and you've got to bring it to life. It's sometimes a lonely thing but it can also introduce you to the most interesting people who are also on their own creative mission."
Last year one of his longstanding creative missions finally came to life with the release of his debut line . The pandemic served as a time to focus and finally put plans in action. The IDEAL collection from his brand WIJNRUIT married his love of motorcycles with an affinity for illustration and texture experimentation. "The first 'official' Wijnruit collection was born in lockdown from ideas I had before I came to London, I had been putting it off until I finally felt like I had the ability to make what was in my head, like alchemy. Lockdown was the perfect time to do a secret project because it was like time stopped. When the world started turning again I was really into what I'd made and I got encouraged from all directions to "do something" with the pieces so I gave up and let it out"
With so many creative outlets one has to wonder if it ever gets overwhelming. "I struggle to be fully present a lot of the time because I'm exploring ideas constantly, even if I don't really want to but I guess it's better than having a lack of ideas. Sometimes it's annoying that I can't do all of it." One can only imagine what the arts landscape would look like if he could execute all of his ideas, even though there would probably need to be about 10 of him.
You may wonder what Sludge Mag will look like with this creative behemoth at the helm; if you've been paying attention you'll already know. From assisting to styling and creative directing - the platform has long benefitted from having him involved in some of our landmark projects. The skirts worn by Nadia Whittome and Um-E-Ayman Babar in our Sludge Mag x Art of Football campaign were handmade by him. His first creative direction role for us was the feature for Loue Marc's DONTKILLYOURSELF EP release and more recently he lent his vision to our editorial with Jordan Stephens around the release of Let Me Die Inside You where he used baroque influences and updated them with punk sensibilities. Having contributed so much so far, in his role as creative director - the best is yet to come.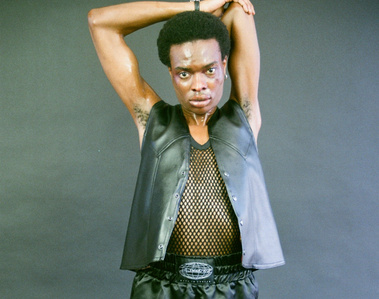 You may also like...
childsdraw delivers a stunning summer collection. Fusing the work of James Barnor's Ever Young Studio in 1950's Ghana with the aesthetic of the Black Panthers
Wanna keep up to date with all things Sludge Mag? Sign up with your email address to receive updates on new articles, petitions and events.