Q&A with Jaydonclover
We decided to catch up with the rising singer about her song featuring in the new Footasylum campaign, new track piecesofme and being inspired by Birmingham and what she is manifesting for 2021.
Jaydon Clover (artistically known as jaydonclover) wants to be more than just a girl that sings, talent has no limits and neither should music. When we think about the heart of the UK music scene, we often turn to London. But with the rise of new talent across the country and pockets of new scenes emerging across the UK, it's time to shine a light on the creatives pushing the sounds in their own cities. With her blissed-out aura, honeyed vocals and innovative blend of soul, R&B and psychedelia: Jaydonclover's visuals coupled with her talent very much mirror the diversity of the city she calls home. This is clearly demonstrated in her newest single titled Piecesofme. In an age where music is often more about creating a vibe than content or subject matter, Jaydonclover manages to do both with this latest collaboration with RADA.
How would you say that growing up in Birmingham has influenced your sound?
Growing up in Birmingham has influenced my voice, my accent and ofc my pronunciation of certain words. Not only is it natural, but I like to sing in my accent as much as humanly possible, because I'm proud of it and it sets me apart from everyone else.

How important is it to you that artists from areas such as the midlands represent themselves outside of London?
It's very important. We've lived similar but very different lives to Londoners, we're one tiny city in comparison and to be able to show and share the talent we have here as authentically as possible is critical.

As an R&B singer, do you ever feel pressure to fit a certain mold of artist; especially as the genre isn't particularly as popular in the UK? Or do you feel as though it allows more room for experimentation?
There's definitely space to be experimental. I don't want to be known as solely R&B, I'd like to be known as a lyricist, an artist because I can jump on any beat if I really mess with it and the producer. I think it's vital to show my versatility.

Piecesofme sound great. What made you decide to write the single's title out as it is?
My artist name and some of my song titles are written as nospaces as it differentiates Jaydon Clover from Jaydonclover, the artist. It's also aesthetically pleasing to see and create a pattern and familiarity for my listeners.

For this single you got RADA on board- what was it like working alongside her creatively and how did it come about?

RADA is a big supporter of the underground scene and we virtually met over Instagram in February 2020, from there we kept in contact and shown each other continuous love and support and later met in March at Divine Woman an event she had put on. Sadly the song came together through lockdown, so we weren't able to work together on the building of Piecesofme, but when I had received RADA's final vocals I was speechless at how seamless and beautifully she fit on the track. The story she told and the ad-libs she brought to the song really tied it all together perfectly.

Congratulations on the song feature for the new Footasylum women's, #FORENA campaign. How did it feel to get recognition from such a large brand?
Thank you! It was amazing. I used to work at Footasylum myself and to be able to work for them again but as Jaydonclover, the artist, it was insane. It makes me happy to know my music is reaching a wider audience finally.

Speaking of recognition, what would be your dream collaboration? Both musically and brand-wise?
Musically I'd love to work with Orion Sun, Hope Tala and Kate Nash - they're all amazing and so honest. Brand-wise I'd love to do some stuff with Dr Martens, Nike, ASOS and definitely some Birmingham based brands such as Bene Culture and allday, but honestly the list is endless.

What are you manifesting for 2021?

A lot. To create more music, collaborate with more amazing artists, to travel, to connect, all of it. 2020 has really made me want to get out more and learn.

Article written by Ashley Morris
Photography by Milky
Follow Jaydonclover on Instagram
Follow Rada on Instagram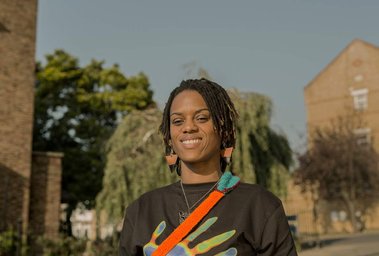 You may also like...
Read our exclusive interview with Roc Nation's newest signee Kay Young. She gives us the lowdown on her stunning new EP Middle Matters with insight on what we can expect from her upcoming album