Q&A with DJ Spen
Baltimore house legend and and Quantize Recordings label boss DJ Spen is back with his new album Soulful Storm
With a career spanning across 4 decades Sean Spencer (DJ Spen to partygoers worldwide) has overseen several eras of music. He started in the mid 1980's at the age of 13 in Baltimore as a hip-hop radio DJ, making beats with his group the Numarx. The group was responsible for writing and recording 'Girl You Know It's True', later covered by Milli Vanilli. DJ Spen later moved into the classic Chicago house sound, joining forces with The Basement Boys collective. In the 90's (under the name Jasper Street Co.) DJ Spen decided to venture out on his own by releasing his first solo production A Feelin' on Basement Boy records in 1995. The track sounds equally electrifying 25 years later. Not content with growing his own mammoth reputation in the next decade, DJ Spen split from Basement Boys in 2004 to launch Quantize Recordings and Unquantize later on. The two labels have collectively released over 600 tracks across several genres. This extensive career probably explains why his new album Soulful Storm feels timeless and of the moment all at the same time. Soulful Storm comes 6 years after his debut album Transitions and includes tracks infused with soul, gospel, disco and Afro house. As well covers of some well known classics we'll let you peruse the album to uncover. Soulful Storm defies description and we urge you to listen, as it has an uplifting dance inducing nature that is certainly amiss in the U.K. and wider world at the moment. Though the music speaks for itself we'd be remiss not to pick the brains of a musician capable of such captivating work, so please read below our interview with the man himself.
It's been a long time since the release of Transition. It feels like even longer given what's happened in the world since then. How have things changed for you as a person and DJ in this time?
I have definitely evolved a great deal during this time. Obviously I have been running my label and have gotten much more confident, experienced, and focused in that area. In that time, I also have done quite a lot of work for other labels, remixes, etc. and with that kind of experience comes growth. I am definitely more confident with focusing on the soulful sound that I like.
We've read you say that you hope people will resonate with the feelings of love, frustration, resilience, and even fun that went into the album making process. Was it hard to tap into human emotions that are typically experienced socially, whilst being in lockdown isolated from people?
It really wasn't hard at all. Though I have been isolated from the world as I knew it, I have connected in an entirely different way with fans and supporters of music. Actually that connection is a lot more intimate that what I experienced before. I might have time to take a selfie with fans or sign an album after a gig, but my reality now is that I am in chat rooms with fans and receiving messages about their struggles and even accomplishments during this time. It has been really humbling but really good. I have also connected with my family in a much different way. There are 4 of us in the house all working or going to school virtually. We have always been close but all of us have also had our independence whether that be working outside of the house, hobbies, athletics or other interests. But we have now all been at home together without the luxury of doing those things and it has made us even closer. We have experienced the worries of the pandemic, the social justice problems and the political issues together. So I think I am likely a little more in touch with human emotion than I was before.
Starting your career age 13 in the mid-80's with your group the Numarx you've been part of some incredible eras of music. Does music in 2021 feel particularly different to any other era, and if so how?
Music is continuously evolving. And we have really seen that with the changes in technology people who have no foundation in music or understanding of music fundamentals, can create something that's fairly decent. From DJing, to production, people can basically stumble upon something good. What we have also seen is that most of those people cannot consistently create something good. You can have all the technology in the world, but the foundation has to be there. A lot of people want to skip the learning and go from zero to hit record overnight. It usually doesn't happen that way. But I am really happy that, particularly in the last year or so and really emerging in 2021 is the return of true musicianship, which was so lacking due to the electronic movement. I am hearing more and more project with live horns, percussions, and strings and it's really good to hear. I always say that music, like everything else, is a cycle. I think we will start hearing more and more music that has that organic sounds. I think some of the younger artists have a real interest and I am really excited to see where music is going.
It's amazing how cohesive Soulful Storm feels considering how varied the genres used as influences are. How did you achieve this?
I really came quite naturally. I have always embraced lots of genres since I was a kid. Weaving them together has never been a challenge for me. The difficulty with genres really only comes in when producing singles because those genres matter more to the consumer than to me as a producer. Despite all the genres, the heart of the album is soul. There are elements of pop, blues, and even gospel but I stayed true to my vision to bring all these different elements of soul together. I mentioned earlier about having more confidence in terms of focusing on the soulful sound. I think that confidence really shows with this album.
You cover some real classics on this album, Angie Stone's - "Wish I Didn't Miss You". Sometimes when a song this iconic gets remixed the initial reaction is "Oh God, please just leave it alone" but your remixes manage to further liven up already anthemic tracks. Do you approach remixes with any apprehension or do you always know you'll make them better?
Doing covers is all about imagining that a song could be better. If a cover can't be at least as good as the original, it shouldn't be done. It's disrespectful to the creators of the song. There are a few songs I would never dream of touching, but in general I always want to bring a fresh perspective to a song while staying true to the heart of it. Whether the song is completely re-imagined or very similar to the original production, when I approach the start of a reproduction/cover project, it is always with the idea that I respect the song and want to do it justice rather than just tackling it because I like it.
Listening to an album that makes us want to get up and dance when the U.K. is still firmly in lockdown is super frustrating! Do you visualize playing this album here?
Absolutely! Under normal circumstances, I would have been wearing the album out on UK dancefloors. That's my usual way of testing songs – in big rooms and small rooms and festivals. The UK crowd particularly will let me know how they feel about the music and I would often use that feedback to make tweaks before finalizing a song. I can't wait to play the album in person in the UK (and the rest of the world for that matter).
Listen to Soulful Storm on Spotify
Book DJ Spen Here
Follow DJ Spen on Instagram
Follow DJ Spen on Twitter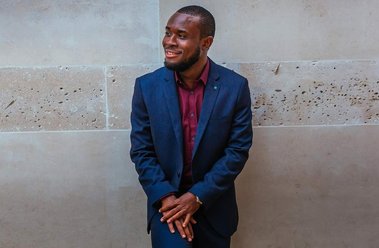 You may also like...
We interview We Plug Good Music's founder Ayo Adepoju surrounding the 10 year anniversary and remastering of the inaugural A Prelude To The Future mixtape