Prosper - Sorzano
Manchester's underground pioneer Sorzano delivers Propser. A short film about finding mental peace with all of the protest and anarchy currently going on around the world.
Manchester is a cultural hub in the United Kingdom and Sorzano has certainly played his part in contributing to the city's rich creative scene. The founder of Sauce Network has long had his ear to the ground capturing moments such as the Bet video with Octavian, Michael Phantom and Skepta. There is no way to sugarcoat it, 2020 has been an objectively bad year for everyone. Covid-19 has caused widespread death and illness and further exposed the inequalities in our society. For the Black community, this sadness and anxiety has been particularly exacerbated by the killings of Ahmaud Arbery, Breonna Taylor and George Floyd in the United States. As well as Simeon Francis in the United Kingdom, one of the many Black people to die in police custody with no action taken against the police. White supremacy is often conceptualised as an American issue, the product of a nation struggling to adjust to world post-slavery and the Jim Crow south. In reality Europe's colonial ideology sees Black bodies brutalised everyday by the police and Black lives subjugated through legislation. The hostile environment, disproportionate use of stop and search, the Windrush scandal and politicians facing no consequences for constant anti-Black statements are but a few examples. Perhaps most damaging is British society's flagrant denial of it's role in perpetuating structural and social racism. The U.K. was one of the only countries that actually had anti-BLM protestors as the rest of the world tried to stand together to oppose racism. But rather than accept being anti-BLM is fundamentally racist, attendees claimed to be "defending history" and "British values" with cries of "All Lives Matter" as Nazi salutes were thrown up. It's the oppression combined with the gaslighting which can make Black people feel as though it's maybe them who are losing their grip of reality. A sort of psychosis that is explored by Prosper.
The innate anxiety and sadness that this plagues many Black people with is difficult to vocalise which makes it all the more impressive how aptly Sorzano is able to depict it through music and video. Prosper sees a subject trying to enjoy an art gallery whilst her phone pings to show her the latest violent protest. In what is a very positive step in committing to showing the true story of history, the video was supported by the International Slavery Museum with scenes filmed across the Liverpool galleries. It comes from his upcoming debut EP project Z which we should all be very excited about based on this super strong offering.
Article written by Martyn Ewoma
Directed by performed by: Sorzano
Assistant director: Paris North
Producer: Thermo Beats
DOP: Tantric Media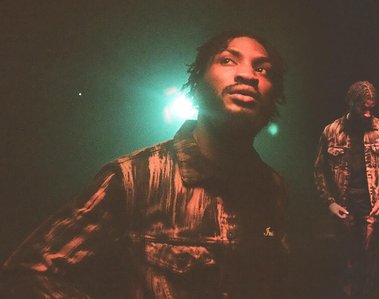 You may also like...
The soul of the South East London continues to glow with the wholesome single & video for "More Life"