notwoways drop their third exclusive model Formula
We first tapped in with notwoways when we interviewed lead designer Rockwell Princely, who alongside YouTuber Callux launched the brand just over two years ago. The brand's commitment to affordability (whilst not compromising quality construction), sustainability and hyper-engineered design have made them a serious favourite for those in the know about sneaker culture. With 9 minute sellouts of past models and serious underground street cred building, the brand is going from strength to strength as they prepare for the release of the eagerly anticipated Formula model.
The brand's distinct orange arrow bottom and lace-tip details are again on show, whilst the rest of this model offers a subtle every day feel. Perfect as an everyday option for your summer rotation. As always this model was made with comfort in mind. The silhouette is made to accommodate wider feel and the heel curve curtails dragging to give wearers an easy job pivoting. We look forward to seeing what's next from this exciting emerging brand.
Release - 6th of June
Stockist - www.notwoways.com
Price - £110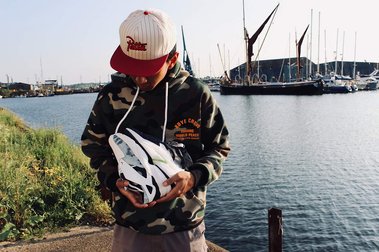 You may also like...
Fresh from a 9-minute sell-out of his latest subsolar trainer design, we got hold of Rockwell Princely, head designer at notwoways.
Wanna keep up to date with all things Sludge Mag? Sign up with your email address to receive updates on new articles, petitions and events.