Read up on the rise of social media maven Jess Lawrence
From modelling in worldwide campaigns, to brand collaborations and navigating the office environment as a social editor, Jess Lawrence is clearly a rising star. We managed to spend some time with the woman herself to find out how she's managed to put herself on this impressive career trajectory.
We'll start with what's usually the hardest question to answer for young people in the internet era, what are you? How would you define your job?
This is definitely a tricky question as most people in the creative spaces we operate in usually are 'jacks of all trades' and allow their passions and interests to guide their professions. I definitely fall into this category as I loveeee being involved in different projects simultaneously. But from the top, my linear career from my degree to what earns the most money would be a social editor. Previously at YOU magazine and in the content team of Expedia beforehand. I've now gone freelance to pursue multiple projects which full time work really doesn't allow you to do (without driving yourself into the ground!). After that in terms of what aids my finances, would be content creation on Instagram, photoshoots with brands, I also write freelance and have just signed with an modelling agency which I've completed a few jobs for so far. I want to try something new though, not entirely sure what yet so watch this space!
We saw that you recently starred in a Bershka campaign with photos of Oxford Street and worldwide, how does it feel to see yourself on such a pedestal and can you tell us a bit more about the project?
I'm so thrilled about this I can't even explain. I'm still amazed and humbled that something so significant and amazing has come out of me simply following what I love - fashion. Being able to be part of that campaign has really opened my eyes to the power of social media and projecting your personal brand (as they found me on Instagram) and also how in 2019 there are literally so many ways to make your passions your profession and navigate your life as you want to. Something I didn't really have a grasp on until probably last year. I never for a second thought this was even an option let alone it would happen! I started out just sharing photos of my outfits as a creative outlet, before the term 'influencer' was even known to us - so I'm also proud that it has happened so organically.
It's clear from your Instagram you're very stylish, how would you define your style and is there anyone who's fashion sense you really admire?
Thank you! I would define my style as mix of affordable streetwear, sportswear and vintage clothing. I'm trying to move away from fast fashion as much as possible (obviously quite difficult in my line of work) but recycling, giving away and selling items to good homes is a great place to start. I want to focus on this more in the future. I love colour and different prints, and of course as you probably know I'm ridiculously into sneakers. I grew up playing a lot of different sports (and all have their different footwear trends) so this has been something that I've always been passionate about. In terms of people who's style I admire, I really love Aleali May and Alani Noelle - both have such unique styles that you can tell come from a true place of inherent style and passion for their fashion.
We know you used to work at YOU Magazine as social editor, did that role set you up for what you're doing now or did you get the role based on already having good social media skills?
I think getting the role was due to a lot of factors. I studied english at university so have a firm grip (and passion) for copy and advertising, I had experience with social media through university societies and an internship I did after graduating, running my own blog and also content experience from working for two years at Expedia on the content team. The role at YOU definitely helped me with what I am doing on my personal channels as lot of best practices, platform knowledge, brand building and social listening skills are transferable from brand to personal brand. Being in a building too with other publications really helped me understand how the industry operates - and of course acquire contacts!
A recent article in Dazed highlighted the fact that Instagram influencers are becoming less effective. As someone who by all accounts seems to be doing quite well, have you felt a lessening in your influence?
This may sound a little ridiculous but I'm not too fussed about the size of my audience and how effective I am in terms of the numbers. I am passionate about creating content, styling outfits and having a place to be creative, so as long as the following is enough to enable me to do this, I'm not concerned massively with growth or holding onto people. If they want to follow me for what I'm doing, thats fantastic and I'm forever grateful and humbled by that, but I'm not going to lose sleep over it if they don't. It's their choice and I make a conscious effort to keep all aspects of my life and career organic and natural. The world develops and new ways to market and be creative are established everyday. Instagram may not be the be all and end all of my journey, we will have to see.
Behind the great outfits and witty captions on your Instagram, your followers may not know that you've actually got a degree as well as career experience. Do you think having academic and/or work foundations is important for those wanting to pursue a career in social media?
I think having an education and career experience is invaluable for all professions, even if it's not a necessity. Learning how the world of work actually works and working with people from all walks of life is something that will help you no matter what job you choose. In terms of social media though, I wouldn't say it was a necessity as your own experience with growth and social media skills can be transferable to many roles. I know that to work for a esteemed publication such as YOU etc, you'd definitely need a degree but this doesn't necessarily align with other brands and companies. The world is changing so much and the journey of careers is in unprecedented waters. I would just recommend working hard in everything, if education isn't available to you, try internships and work experience to broaden your knowledge ands strengthen your CV. The beauty about social media is that you don't need any prior skills to get on there and have a go. Make contacts, network and follow each opportunity to see where it takes you.
If you could collaborate with any brand who would it be?
Easy question. The Jordan brand. I am a huge fan of Nike, I played basketball all through my childhood and really love Michael Jordan and his journey (as Obama said most people only think of him as a meme nowadays, but he has done incredible things for sport, fashion, and youth). Like most sneaker-heads I am obsessed with the Jordan 1 silhouette over everything, so a chance to collaborate or work with the brand would be a dream come true!
Photography: Martyn Ewoma
See more from Jess via her Instagram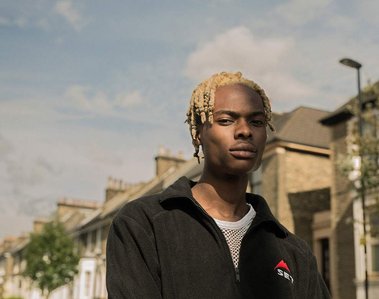 You may also like...
Since 2013 U.K. based contemporary outdoors brand has been going from strength to strength, attracting co-signs from the likes of Skepta, Frisco and Casey Neistat. Check out our interview with it's founder