Style and sustain with SET
Since 2013 U.K. based contemporary outdoors brand has been going from strength to strength, attracting co-signs from the likes of Skepta, Frisco and Casey Neistat. We sit down with the brand's founder Jack to talk sustainability, style and SET's plans to make sure they're part of your wardrobe for decades to come alongside a new editorial featuring rising model and musician Mo to showcase some of the summer line.
Set's been going strong since 2013 and has accumulated a strong cult following, how would you say you've gained notoriety and staying power in a world where new brands seem to pop-up every week?
Yeah it seems that new brands pop up every week and the industry has changed a lot since 2013 but I think we have our own style which holds it own well. I love seeing up and coming brands but i don't wanna get distracted at the same time. I have my plans with set and I want to stick with them, We have outlived a lot of brands that started the same time as us
We know you donate 1% of all annual profits to 1% For the Planet. What brought about that decision and do you think there's a responsibility for brands to do the same and be more environmentally conscious?
I've talked with the guys at 1% for years and we made the step in 2018. We were the first brand in our category to sign up. Since then through 1% we have started working with The Rivers Trust and have some big plans with them so I'm really excited about that and the opportunity to work with them. I think there is a massive responsibility for brands especially fashion because it is a super throw away system it seems. I think the power is with the buyer… sometimes the best product isn't always made in an environmentally conscious factory or fabric but if you keep that coat or jeans for 10 years you've made it sustainable by not changing jeans or jacket every year. The most sustainable thing you can do is wear vintage clothes & if you do buy a new jacket or pair of jeans wear them till they are destroyed….and then fix them. I don't think brands need to green wash their products we do 1% for the planet but it's not the be and end all of our efforts in sustainability. Our aim is to build a sustainable product but keep it low key. Because we aren't trying to convince people to buy only because it's sustainable or we donate 1% to environmental charities that's just something we want to do. Buy something if you need it. Less is more.

Mo wears Set Mountain 1/2 Zip Fleece Jacket. Tee by Weekday. Trainers by Converse
In terms of the designs themselves, SET's pieces tie in seamlessly with streetwear and workwear enthused fashion without following trends. Do you design with malleability and longevity in mind?
Longevity is everything for set. I want people to find old set items in thrift shops and still want to wear them in 20 years. I feel like these main stream designers over 'design' stuff, it takes an understanding in products and design to know when to stop and keep things simple and straight to the point. Like i don't have to spell it out for people they just get it. I don't need to annotate my products for people to get the message. I don't need to put equipment gear in capitals down a jacket for people to know its purpose. There is a reason why certain products are timeless and I try and learn from the classics for sure.
SET's caught the attention of some big names in fashion and music, do you have any highlights in regards to people you've been thrilled to see wearing the brand?
Yeah we have some great ambassadors for the brands, The stand out one for me has gotta be Skepta & Frisco, Growing up on BBK it was a game changer to see them guys wearing Set. Casey Neistat was a really cool one too that guy is a big inspiration just as far as creating content
Fashion in the U.K. seems quite London-centric, have there been and challenges or indeed advantages from not being based in and around the London bubble?
It's hard to say really I'm definitely not in London as much as I should be, I do miss out on a lot of events but I do think there are definite advantages from not being in that London bubble. It's like a blessing and a curse in a way. I find a lot of inspiration from the outdoors and the city, it's the cross over between the both that SET exists within.
You've recently made a foray in to jewellery and sunglasses. How has the reaction been to that and do you have plans to diversify your product line ever further?
Designing and developing eyewear and jewellery is a massive passion of mine and the reaction from our customers has been amazing. I feel like we need to keep the current pace of releases. I don't like to rush things. We have started working with a U.K. company called Aiguille Alpine we are looking at developing some new products with the help from them.
Mo wears SET S Logo T-shirt (Gold). SET Niobe Sunglasses. Suit by Tommy Hilfiger. Trainers by Nike x A-Cold Wall*. Belt vintage. Jewellery model's own
SET's support of up and coming musicians is well documented. Why is it important to you to work with burgeoning artists?
They are the future of music as cliché as it sounds. You have to support the hustle doesn't matter if its music or photographers or designers. That DIY grind is just everything man.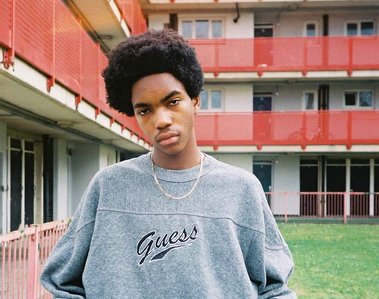 You may also like...
We caught up with Lauren Sissons and Gus Walsh, the couple behind Depop sensation "Bare Vintage"