Gucci Cosmos
Gucci welcomed Sludge Mag into their world where Polina Zakharova's vision shines through
If you've stepped foot in London, opened a newspaper or scrolled through Instagram in the past week, chances are you've seen adverts for Gucci Cosmos. The house's immersive experience celebrating their 102 year history which premiered in Shanghai in April opened to the public at 180studios this week and Sludge Mag were invited for the press view and subsequent panel discussion. Going into the event there were a few burning questions on my mind. Namely, "is there an appetite to learn more about a luxury fashion house in the current economic climate?", "will the exhibition serve as a tool to further communicate new creative director Sabato De Sarno's vision to the public?" and perhaps most importantly "what does one wear to a Gucci press event when they don't own any Gucci?"
The first query was touched on immediately. The Gucci x Savoy lobby (an homage to The Savoy where a young Guccio Gucci plied his trade as a lift-boy) led us into The Ascending Room: a red room modelled after the Savoy's iconic lift. There we learned more about how a young Guccio, working in London as a lift-boy away from his native Italy, would accompany guests in the first ever electric elevator in London up to their rooms. The 7 minute journey is where he is thought to have developed his fascination with luggage, seeing the international elites who made up the hotel's guests with all manner of luxurious baggage. This struck me because luxury fashion in the modern era often takes cues from working class communities and subcultures - like the luxury market's co-option of streetwear in the late 2010s . In reality it was a young Guccio Gucci (working a modest job) who was inspired by the aristocracy to found one of the world's most prominent luxury brands. This could point to a role reversal over time, but I think it speaks to the cyclical nature of fashion's relationship with class. Wherein the working class see luxury items as aspirational and the high fashion world looks to the working class for creative inspiration and authenticity. These sorts of origin stories help people who may feel detached from the heady world of luxury fashion posit themselves within the culture. Even if the price points are out of reach.
One of the exhibitions most arresting features was an installation simply named Two. Two ten metre tall white statues lie opposite each other (they stood upright in Shanghai) whilst projections of some of Gucci's most iconic unisex suits are projected onto them. Hard Feelings co-founders Polina Zakharova and Sveta Yermolaeva's innovative use of visual and audios communicate the brand's past, present and future throughout Gucci Cosmos. Their craft is perhaps best displayed here. Whilst the ambient sci-fi feel of the room is reminiscent of Alessandro Michele's momentous AW17 Star Trek campaign imagery lensed by Glen Luchford, the projection of Tom Ford's 1996 red velvet unisex suit reminds us of the modernity that has defined the brand for decades. Past and present together as one. This is very deliberate. "When you say retrospective, you think about the past. Whereas this is about continuing history." curator Maria Luisa Frisa tells panel host Alexander Fury afterwards.
As we continue to consider what relevance luxury fashion has to the everyday person, it is worth remembering how fashion informs social norms. Androgyny in fashion has always served to expand the realms of how we see gender. Iconic figures like Grace Jones, Prince, Billy Porter and Young Thug have made waves with their subversive fashion choices. More recently Gucci's work with Harry Styles has tried to to do the same for gen-z. One might question how much impact a luxury fashion house can have on the general public, since their consumer base is limited to the affluent. The catwalk to high-street pipeline means that whatever luxury brands put out will be reappropriated by more affordable retailers. Think of the embroided jeans trend of a few years ago: spearheaded by Gucci. Admittedly the dawn of super fast fashion (where retailers can emulate viral outfits within a day) has lessened the impact of catwalks, which used to dictate trends for a whole season. But Gucci's commitment to challenging gender conformity through fashion is palpable and expertly showcased through Zakharova's creative direction here.
The Archivio room was perhaps the room that was least surprising. Pristine, sleek, sexy and epitomising luxury - this is what you would picture if someone said "imagine Gucci as a room". Modelled loosely after the Gucci archive in Florence, the rooms mirrored space creates a feeling of endlessness. Here a range of Gucci's most iconic bags are on full display, gleaming in a polished set that instils a Charlie and The Chocolate Factory sort of wonder. The different bags act like a sort of time capsule. We can situate the yet to be released SS24 bags amongst classics like the 1947 Bamboo. Famous for its bamboo clasp (born out of necessity due to a leather shortage following WW2) the lightweight material could be imported easily from Italy's Axis ally Japan.
The origin of the Bamboo bag is a tale of darkness or innovation depending on how you look at it. One of the brand's most undoubtedly beautiful pieces only exists because Italy were able to import from an ally in one of humanity's greatest atrocities. Discourse about fashion's role in wider society has become a lot more nuanced in recent times. Conversations around sustainability, classism, representation and a whole host of intersections are never too far away. So it's strange that the main takeaway from Gucci Cosmos is just how fun fashion can be if you are able to compartmentalise a little. The craft and care that has gone into the exhibition, the child like glee of the panellists and audience, its hard not to get swept up in it all. Even if the grandeur of it all feels a little alien. Its hard to definitively measure whether luxury fashion provides a net positive to society. Neither this article or the exhibition itself can answer that. What is clear is that Gucci sits at the summit and the exhibition is objectively fantastic. If you're ready to compartmentalise for an indulgent day out, this is the place for you.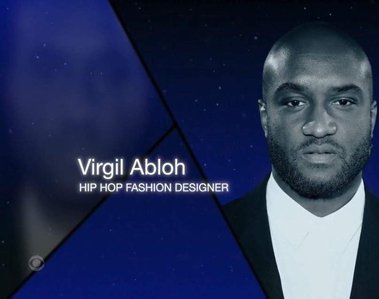 You may also like...
The Grammy's clumsily labelling Virgil Abloh a "Hip-Hop fashion designer", shows an establishment failing to keep up with the fluidity of Black culture.
Wanna keep up to date with all things Sludge Mag? Sign up with your email address to receive updates on new articles, petitions and events.