A legacy that transcends labelling
The Grammy's clumsily labelling Virgil Abloh a "Hip-Hop fashion designer", shows an establishment failing to keep up with the fluidity of Black culture.

When Virgil Abloh died in November last year, it sent various shockwaves through the multiple synergised fashion communities. The first wave was one of complete shock: Virgil had kept his struggle with cancer extremely private, not faltering in his commitment to his work in disrupting the norms of fashion and design, whilst simultaneously creating space for the next generation of creative leaders. But then came the second wave, which was the crushing realisation that we had lost the most creatively influential and pioneering voice of our generation. It rocked me as if he was someone I knew personally.
Through life and death it was difficult to hold Virgil to one definition. In his short 41 years on this planet he was known as a founder, designer, entrepreneur, trailblazer, philanthropist, engineer, DJ, artist, and loving father, husband and friend. So when the Grammy's summed up his entire body of work as "Hip-Hop fashion designer" last night as part of their memorial section, it sent a further, and sour third shockwave through the same communities.

Abloh may have commanded a synergy between high fashion and Hip Hop music (in layman's terms) contributing to various projects that spanned the intersections of fashion, music and design. Notably, in the Hip-Hop sphere, he designed numerous album covers. Including Kanye West's 808s & Heartbreak, My Beautiful Dark Twisted Fantasy, Kanye and Jay-Z's Watch The Throne (ironically which he was nominated for a Grammy for), A$AP Rocky's, Long.Live.A$AP, Pusha-T's My Name Is My Name, and many more. But, to condense his entire legacy and body of work to "Hip-Hop fashion designer", is not only gravely incorrect, but it aligns with a continuous conflation of Black works, experience and culture.
It's no surprise unfortunately that The Grammys would be ignorant to the intersections of culture. I purposely don't watch the show but am privy to its history as an organisation steeped in racism, bribery, white privilege and elitism. It's the same organisation which awarded Macklemore best Rap Album in 2014 over Kendrick Lamar's 'good kid m.A.A.d. City' one of the most iconic rap albums of our generation. It's the same organisation which pigeonholed Tyler the Creator's album IGOR within the rap category, when it consisted of a multitude of pop, soul, rap and psychedelica. Because Black people only make rap music right? It's the same organisation which has been denounced by various esteemed Black musicians including Drake, Kanye, and The Weeknd (who has been snubbed continuously).
Abloh's creativity transcended categorisation, despite many attempts to place him into one. His own brand, Pyrex Vision, which then grew to become the luxury label Off-White, was described by Virgil as "the grey area between black and white as the colour off-white". This, being the perfect metaphor not only for his brand which found its place in the grey area between once very distant fashion categories luxury and streetwear, but also in his appointment as artistic director of Louis Vuitton in 2018, a position not previously held by a Black man.

Despite Black people's enormous contribution to fashion, it is commonplace for our influence to be invalidated. One only has to look at outgoing former British Vogue editor-in-chief Alexandra Schulman's derogatory comments about her successor Edward Enninful. Virgil was a regular in sending uplifting emails and Instagram messages to his peers, supporters and friends, many of which were shared lovingly on social media once he passed. The one that came to mind immediately after reading the term "Hip-Hop fashion designer" (and consequently wanting to dry heave), was 'context is paramount, otherwise the world is flat'. Ironic as the Grammys continue to flatten the reality, power and beauty of Black culture.
Whilst the grammys inherent racism blinds them to the context and nuance of Virgil Abloh's legacy, they are actively trying to flatten the scope of Black culture. They can only do this insofar as we take them seriously. We ought to define ourselves, not through the lens of people who don't understand us, but by the joy that people like Virgil Abloh breathed into us. We should herald the immortal words of someone who was so much more than a "Hip-Hop fashion designer"...
"life is so short you can't waste even a day subscribing to what someone thinks you can do versus knowing what you can do."
- Virgil Abloh
Article written by Jess Lawrence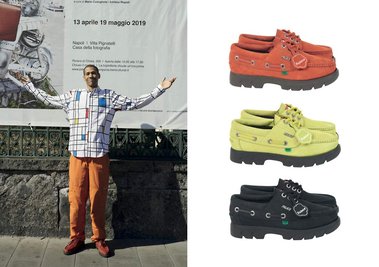 You may also like...
Check out our interview with London-based footwear designer Jess Dalton whose worked with the likes of Palace Skateboards, Kickers, and Dr Martens.
Wanna keep up to date with all things Sludge Mag? Sign up with your email address to receive updates on new articles, petitions and events.