Sludge Magazine remembers Luke Forte
Sludge Magazine remembers Luke Forte. A talented multi-disciplinary artist who's talent was only eclipsed by his effervescent personality and kind heart.
It's impossible to capture the essence of someone as beautiful as Luke with mere words. That's why the days following the heartbreaking news that Luke is no longer with us have been filled with silence on my part. Anything I could try to say to encapsulate Luke would be so reductionist, it almost feels like an insult to try. But Luke had such an amazing impact on my life, and the lives of countless others, that it only feels right to share the things I learned from being blessed enough to have this beautiful human being in my life.
The first time I met Luke I was with our friend Ashley walking through town. We bumped into him and his wonderful mother Rachel (who he couldn't mentioned without a loving smile beaming across his face) and he asked Ashley about a pop-up event Ashley was running soon. Unfortunately for him he was 17 at the time so couldn't come. But after I told him about my photography and offered to meet up with him to take some shots and show him the ropes, we exchanged details and began a friendship based on a plethora of mutual interests. He had a keen interest in fashion and a unique dress sense that was a mixture of vintage finds, charity shop gems and streetwear staples. Impressively, he realised early on what most fashion fans take far longer to understand. That brands don't make a good outfit, creativity does. Of course, it helps when you're unreasonably attractive. That lack of materialism was indicative of his wider personality, which was totally void of superficiality, arrogance or elitism. Seemingly impossible for someone who was quite literally good at everything and adored by everyone. I always fancied myself as quite a cool guy, Luke indadvertedly showed me...there's levels to this.
He was a burgeoning DJ, often venturing to Nottingham to use a studio there. He would go on to collate mixes unearthing underground tracks whilst forging relationships with key players from various pockets of the U.K. music scene. That charisma, talent and drive would see him go on to interview artists and write pieces for platforms including GRM Daily and The Pit LDN. As a model he would walk for Casablanca at Paris Fashion Week and appear in campaigns for SCRT CO. and Champion. As well as working with many top photographers who saw the value of his unique look. We bonded tremendously over the experience of navigating the fashion industry and everything that comes with it. He was of great support to me whenever I suffered setbacks. Eventually he decided he was more comfortable on the other side of the camera and took to shooting fellow models, as well as doing street and landscape photography. This year he bought a medium format camera and I was thankfully able to arrange for him to shoot for Christopher Kane's More Joy Creatives '21 series. He did a characteristically stellar job. I truly believe there is no ceiling to what he was capable of accomplishing.
Naturally when people pass away floods of platitudes about how 'nice', 'special' and 'caring' they are rain in. Which is a good thing, most people objectively are, to some degree. It just stings slightly because it dilutes the weight of those adjectives when attributed to Luke. I have literally never introduced him to someone who hasn't retrospectively talked about how much they enjoyed his company. Different ages, different backgrounds, different interests, it doesn't matter. Luke's fundamental respect and grace for every human being he encountered, instilled by his lovely parents, was exemplary. Despite being older than him I was inspired by the example he set. Knowing he looked up to me for my career accolades (which are trivial) made me want to be a better person, so that I'd feel deserving of his adoration. As the years went on and he considered next steps, I was fortunate enough to meet up with him periodically to discuss possible university courses and eventually start drafting his personal statement and portfolio. I remember fondly, how excited he was to be accepted to the courses he applied for. He was so grateful for my help that he bought me a bottle of pink gin. That random act typified who he was. Culturally, as an older man I had a responsibility to help him move forward in his life. So he didn't owe me anything. Despite this he went out of his way to actually buy me something and come to my house to deliver it.
As time went on we got closer and closer. I photographed him for various projects, we spent nights out together, birthdays, went for dinners, had Sunday lunch at my families' house, memories I will treasure forever. The last time I saw him in person was his 21st birthday. I am so thankful for what was the perfect final memory. I cannot picture his face without a smile on it and it haunts me to know I won't feel it's warmth in person again.
But I refuse to let the sadness of missing him override the happiness of having known him. We all need to be defiant in the face of abjection. It would be an injustice for someone who brought so much joy to so many to not be remembered joyfully. I know it's difficult. I haven't been able to sleep the last few days as I see his face looking at me every time I close my eyes. It's natural to be devastated and on some level I think I always will be, but try and remember that lives are defined by how they are lived not how they end. When you love someone, think of your best memories with them, how they made you feel. That's the truest reflection of who they are.
It's natural to want an explanation or to blame someone or something for this sense of loss. Maybe the biggest plaudit I can give Luke is the fact that I don't even feel an urge to do that because that sort of energy is so at odds with what he stood for. I don't blame anyone. I just feel compelled to accept that things don't always work out the way we would like. So the good things need to be cherished as much as possible. His friendship has given me the gift of perspective. I feel more able to cope with life's negatives, just knowing that for balance, the same life afforded me something so brilliant as knowing him for a time. Believing in God, as I do, there is a tendency to look for meaning or point to some "bigger plan" to explain everything that happens. Personally I don't believe Luke's life ending was part of some bigger picture or there was any justification for it. Life is just horrible sometimes. But mine was made infinitely better, by him being part of it. In time when the pain fades, that notion will be all that comes to mind when I think of him. I hope it will be the same for you.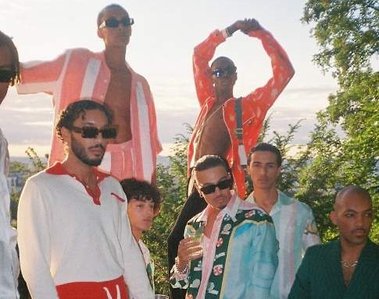 You may also like...
Meet the model turned photographer expressing himself on the other side of the lens
Wanna keep up to date with all things Sludge Mag? Sign up with your email address to receive updates on new articles, petitions and events.