Intuitive Energy with Manuela Karin Knaut
Intuitive Energy is a virtual exhibition by Manuela Karin Knaut, installed by the independent gallery Grove Collective. Their work aims to allow art to reflect the global marketplace, exhibiting work from a diverse range of practitioners for an equally diverse audience and collector base. Manuela Karin Knaut is a contemporary artist, based in Germany her Berlin installation of Intuitive Energy was brought to Grove Collective through virtual reality. We caught up with Manuela to discuss her influences as an artist and producing modern art in an ever-changing creative landscape.
What is your earliest memory that involves art?

Art has been a part of my life ever since I can remember. As a child I have always loved being crafty- whether that included building shacks out of wood pieces I found in our nearby sawmill, decorating our pavement with chalk or creating my first artworks using glue, felt-tip markers and crayons. As I got older, I started selling my first works and in high school I invested in acrylics and canvases for the first time, the kind of material I still use today.
The running colour theme in this collection is pink. Why is that?
I go through phases with the colour palettes I like to use. Sometimes I prefer using more sombre shades, almost shifting into a black-and-white-only look. Then there are times I enjoy working with more vibrant colours, such as neon graffiti shades of blue, gold or pink. It depends on the vibe and atmosphere I want to create through the work. For this particular collection I wanted to create something vibrant, energetic and almost eccentric. That's why I chose to include brighter colours such as the pink. Plus, it is a colour I generally tend to circle back to since it radiates a good energy. It´s all about what kind of ambience I want to achieve through the works. I have used many different colours and shades over the course of my career- however, some colours I keep coming back to are black, grey as well as different shades of blue and pink.
The collection is playful and fun, is there a deeper resonance to your work or do you simply paint what feels right in the moment?
A lot of the work that goes into creating a painting is about intuition, as the title of this collection suggests. It is hard to explain, but I envision a kind of concept in my head about where I want to go with the work. However, I never work on accurate sketches or a conceptual plan. I would describe the process as a fragile balance between being in an almost impulsive state of mind versus carefully contemplating my next brush strokes.
Is there a theme or core inspiration to this collection?
Although every piece stands on its own, I do see an overlapping theme for all of the chosen works. Since they all include vibrant and bright colours, the works radiate energy, joy and positivity. I believe, or hope, that the works will make people think of a new beginning after all the difficulties we have been facing in the past year due to the pandemic. They symbolise happiness, enjoyment and cheerfulness but should also encourage people to leave their comfort zones and seek the unknown.
More broadly, where do you find inspiration for your works?
The installation art scene and its theoretical background are a big inspiration for me. Some examples of artists working in this direction whose work I admire would be Gregor Schneider and Phyllida Barlow. Apart from this I love to follow university exhibitions and art students, young artists in general, art fairs and biennales are obviously always very interesting. But my main inspiration stems from everyday life. I am inspired by everyday encounters made in the public sphere, whether while travelling in a new country or in my own neighbourhood. A forgotten photo album on a flea-market, a catch phrase I spot in a magazine or even just the tiny shops neon lights on my way home- it's often the little things that make inspiration strike for me. That is also the reason why I love travelling so much and have lived abroad for many years - different cultures, languages and social norms inspire me the most. It is all about leaving my own comfort zone and refuge and seeking something that is foreign and unusual.
This collection, alongside your other works, is made up of paint on canvas, is this your favourite medium to work in?
Canvas is a medium that is not only easily accessible all over the world, but also extremely versatile. I have worked on natural linen canvas, black canvas, canvas that was barely the size of my palm up to canvas so enormous that I was not able to stretch it inside the walls of my studio. I enjoy that I can use different types of paint such as acrylics, crayons and graffiti and even layering is possible. So, in that sense it is definitely one of my favorite mediums to work in. However, one thing I love about my profession is the fact that I do not have to narrow everything down to only one way of ruling things. I also love doing installation art, an area I have focused on during my Masters Degree in Fine Arts. I really enjoy photography, screen printing and have recently also gotten into working with ceramics. There are endless options, but I am convinced that paint on canvas will continue to remain the focus of my artistic portfolio.
From studying art at university to now, how much experimentation did you do with art before developing your own personal style?
Art is always a kind of experimentation. You experiment with different mediums, colours, styles and sizes. I have definitely tried a lot of different things and still continue to do so till this day. I believe that it is crucial for an artist to always keep exploring and looking for something new and unknown.
How does it feel for your art to be able to reach a global audience through a virtual collection like this one?

I am thrilled to be able to have a space that allows artists and art lovers from all over the world to be able to connect and exchange ideas. An artwork never stands on its own, it´s also about how the viewers react to it and the connections that are built because of it. I am very active on social media, and one of the reasons for that is the fact that it allows me to interact with an audience that is not narrowed down to my current location but an audience that lives, works and creates art worldwide.
Is the future of art virtual?
The virtual world will continue to become more and more important to all of us and definitely allows us to view and explore art in new ways. It is also the pandemic that has taught us that virtual formats of exhibitions and workshops generate new possibilities. However, I believe that the analogue world won´t go out of style either. A work can appear differently when seen on a screen vs. when seen in an open space. Many of my clients are surprised and positively overwhelmed when they receive their chosen work, because they are able to take in the different layers and the structure on the canvas that is not conveyed in the same way online.
Article by Phoebe Patrick
Experience Intuitive Energy here
Follow Manuela Karin Knaut on Instagram
Follow Grove Collective on Instagram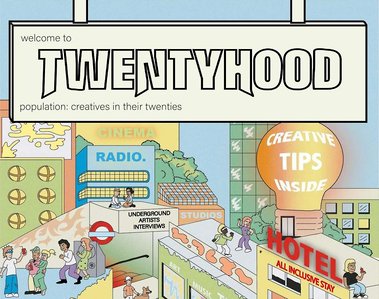 You may also like...
We sit down with founder Stephanie Kleanthous to chat all things Twentyhood Mag. The magazine which is dedicated to giving a voice to creatives in their twenties is celebrating it's first print issue!