Q&A with Lirian Santos
Hailing from Bahia in Brazil, Lirian Santos is lighting up the football freestyle scene and reminding us why we love the beautiful game 🇧🇷
In some ways football feels like a murky world at the moment. We're in the wake of a Qatar World Cup seeped in controversy. Premiership champions Manchester City are subject to a mammoth 115 financial irregularity charges. At the time of writing this, Brazil and Real Madrid's Vinicius Junior is being targeted with an onslaught of racist abuse from a litany of La Liga opposing fans. Made worse by complete contempt from the league's president. At times like this it's important to remind ourselves why football is still the world's favourite sport. Football freestyler and "the Queen of Brazilian style" Lirian Santos embodies all of those reasons.
We first came across Lirian when the Sludge Mag comments section was suddenly inundated with mentions. To our surprise we saw Lirian wearing one of our jerseys performing a bunda touch (controlling the ball with her bum) and setting herself up for a ferocious volley in one of her many viral clips. Scrolling down her page was a feast of insane freestyle videos on Power League pitches, gorgeous Brazilian beaches and fluorescent painted street courts. My personal favourite? Her effortlessly cushioning a descending ball with Neymar's trademark heel control...wearing heels. As well as displaying astounding technical ability, Lirian's content has a wholesomeness to it. Always smiling and laughing, involving awe struck kids and soundtracked with upbeat music - smiles are guaranteed. So we decided to get to know the woman behind the tek.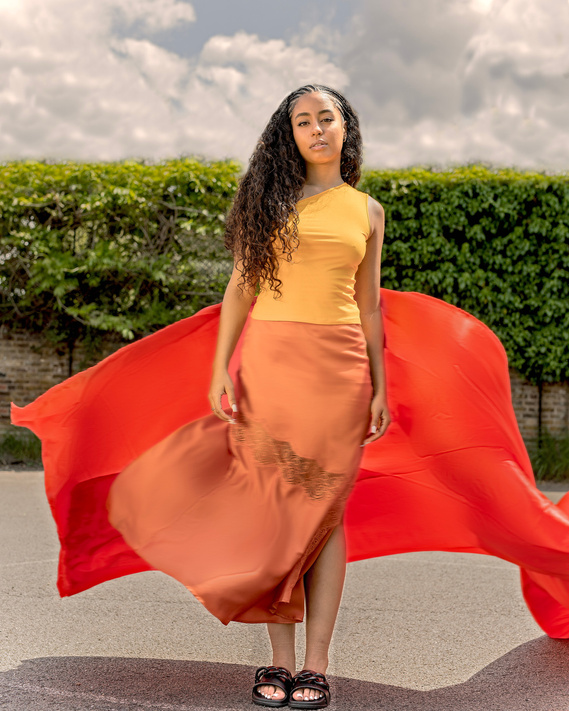 Born in Bahia Brazil, her family came to the U.K. when Lirian was still a toddler learning to walk (her footwork has come a long way since then) and settled in London. Her parent's journey serves as a massive inspiration to Lirian and explains her tremendous work ethic. As we chat before the shoot she fills me in on her itinerary for the rest of the weekend. After our shoot she'll be rushing off to present an event, then gearing up for appearances and tournaments across the country in the following days. Rather than seeming bogged down by a physically gruelling schedule, Lirian's face lights up and she even cracks jokes when referring to her physical toll in takes on her. Like a lot of children of immigrants making their way in the entertainment industry, her "hard work" pales in comparison to the experiences on her parents, whose sacrifices gave her the opportunities in the first place.
"My parents went through a lot. They came from Brazil in search of more and better opportunities, and I think the sacrifices and will to succeed in a foreign country are often underestimated. Starting everything from scratch, while facing challenges such as discrimination and taking on jobs that aren't considered "worthy" takes a lot of courage. They always worked very hard; long hours and endless late nights just to ensure that my family and I had a bright(er) future. From a young age, I saw them work hard, so I always knew that I needed to be successful somehow. In my head failure was never really an option and my parents are my number 1 inspiration. There's no better feeling than being able to help the very people that put you on this earth and for me that's my main motivation so it makes me want to work that extra bit harder"

Despite the pressure a lot of us feel to succeed and provide financially for our family, Lirian beams as she talks about her parents support of her career path. After uncertainty about whether to pursue marketing at university, Lirian's decision to take the plunge into content creation was supported by her parents (particularly her football loving father) on the condition she'd re-assess things after a year if there were few signs of progress. After presenting at the 2022 World Cup, over 366.5K TikTok followers and 5.5m likes, 221k Instagram followers and modelling jobs for USA pro and Nike, the rest as they say is history. Other than perhaps inspiring her little sister into also foregoing university, her parents have no complaints.
Lirian's love of Brazil extends into all facets of her life. She tends to go back yearly for around two months. It's apparently easier to get locals involved in content there as street football is as natural as sunshine. Between looks I put on a playlist of Funk carioca music I've prepared to get her in the mood for the shoot. After bursts of laughter which confuse myself and the creative team, Lirian composes to explain the Portuguese lyrics of the song playing are extremely raunchy. Once I get over my embarrassment (much to her amusement) a conversation about cultural differences and similarities unfolds. She has a keen interest in other cultures and as we chat about languages she excitedly tells me about the Yoruba speaking parts of Brazil and our shared eating of garri.
She certainly relishes the travel element of football content creation. It's a global game after all, which sees her journey the world to see how different societies engage with the game. Sometimes with surprise gems. "One of the nicest countries I've been to is probably Albania. Not only is it beautiful but the football culture is super strong. I love going to countries that not only are beautiful but that value football as much as I do. It is honestly such a gem hidden in plain sight. When I visited, I even managed to play some Altinha with people on the beach". Altinha is a game where two people co-operatively try to keep the ball in the air, credited as being created on the beaches of Ipanema in the 60s. It's a reminder of how powerful it is that football is essentially a global language. When I think back to family holidays abroad, the one thing that transcended language barriers with other children was football. Just passing a ball to another child basically meant "hey let's be friends" and that spirit breathes through Lirian. Even if we can't all control it as flamboyantly as her.
Sadly, the commercial element of football has somewhat robbed it of its joy. The financial implications of relegation, promotions and tournament qualifications mean that the football we see is as results driven as it's ever been. There's a statistical element to player output and analysis that doesn't accommodate players doing things just because they're fun. Despite being a broadly multicultural game, European football culture is also hugely conservative. Europe's top 5 men's leagues have no openly gay players and with the rises in homophobic abuse at matches its no surprise. Racist abuse from fans and stereotypical commentary is well documented. Pushes for inclusion and progressive views in society are not without their detractors, despite people perhaps feeling less comfortable to express bigotry in public. At an institutional and social level, football offers a lot of people a sanctuary to remain their scummiest selves. So where do flair players and freestylers fit into a game, that often acts as the last bastion of the traditional? How does a Brazilian football freestyler reflect on the way we do football here? "I think it's a cultural thing; in Brazil street football is a common thing, so I believe the flair aspect is something that a lot of Brazilians have been taught and learned from a young age. It's something that comes naturally to us. We are used to playing in tight spaces, so we're forced to be skilful. In the UK, it's all about physicality and straight to the point. There's no time to waste with skills, and whilst you could argue that it's a more effective method to win games, I do think football is way more than just scoring goals and Brazillian's make note of this in the way they play the game. Personally, I think the entertainment side of football is the most beautiful bit of it all and being able to make people smile through sport is what I value most. Unfortunately, football in the UK and Europe somewhat discourages flair and some might even see it as disrespectful, which is something I'll never quite understand."
Growing up Lirian played 11-a-side and the freestyling only really took hold during the pandemic. According to her she could just about manage an around-the-world before lockdown (which I'm not sure I believe looking at her mesmeric clips now) and it was the time with nothing else to do that sparked the fire in her to master freestyling. Plenty of high-profile players honed their craft in cage football, where nimble ball control is essential much like freestyle football. I wonder therefore if Lirian's become better on the pitch since mastering tricks and flicks. "I would like to think so, although freestyle and football are two very different things. I think that freestyle has helped with my touch and ball control quite a lot which is good. The only thing is that you're so used to staying in one spot, so when you go back to 11-a-side football it's difficult to get your fitness back".
Lack of stamina certainly doesn't show when Lirian is presenting. After meeting her in person it's a pleasure to confirm the exuberant cheeky personality we see on screen is legit, and in full effect as she roasts my first touch after chucking the ball towards me. Social media personalities are an interesting phenomenon. Stars gain notoriety with an initial amazing talent, then comes the real challenge of commodifying that attention. One wonders how that fares for people who might be supremely talented but introverted. Seeing Lirian's on screen personality and how it's derived from a genuinely warm and inviting personality makes me think that having that much charisma is a talent if of itself. "I've always enjoyed being in front of the camera. I must admit, however, that even though I enjoy it, it's still something that gets me a little anxious, but I think that's normal.I always like pushing myself out of my comfort zone and although I get a little nervous deep down I love it". That love shines through and we love seeing it unfold. With the Women's World Cup on the horizon this will be a busy summer for Lirian and we can't wait to watch it unfold.
You may also like...
The founder and creative director of football rework streetwear brand Offside Outlet's star continues to rise
Wanna keep up to date with all things Sludge Mag? Sign up with your email address to receive updates on new articles, petitions and events.