Q&A with Kwajo Housing
We chat to Kwajo Tweneboa. The 23 year old South Londoner taking his crusade to repair the broken social housing system nationwide.
Britain is a paradox. A land defined by patriotism that simultaneously crushes its citizens. We tell ourselves that we live in a liberal democracy and on paper and it should work fantastically. We pay a portion of our wages for MP's salaries. They represent our interests, and use the rest of our money to shape our infrastructure, so we can get on with our lives. It could all be so simple. The reality is much murkier. In the U.K. 20% of the Tories donations come from property developers and a quarter of them are private landlords. As such: the likelihood of the government prioritising working class renters, over the landlords who bankroll them, is miniscule. Instead, acting very much in the public's interest, is 23 year old Kwajo Tweneboa.
Over the past few months Kwajo has been blowing up across Twitter for his videos exposing the shocking conditions that inhabitants of social housing face in the U.K. Even after watching some of the videos, typing out their contents feels sensationalist. We're talking rat infestations causing students to fail university due to the adverse impact of their mental health, we're talking walls so damp that babies are developing respiratory problems, raw sewage in people's bath tubs, NHS workers with disabled mothers unable to use their own bathrooms, faeces running down the walls from upstairs properties. It is genuinely a Dickensian level of squalor and it is commonplace in the U.K.
Kwajo began this crusade after himself falling victim to the negligence of the social housing sector. In 2020 Kwajo watched his beloved father, a former care worker, die of terminal cancer. During this time their housing association, Clarion, compounded an already devastating experience by flat out ignoring his requests to make repairs. The problems were numerous and would likely cause problems for someone who was healthy, never mind a man dying of cancer. Exposed ceiling beams, mould, asbestos, rotting cabinets and a bathroom and kitchen so inhospitable that Kwajo had to shower at the gym and the family live off takeaways rather than cook. Perhaps worst of all, the logistical minefield of the flat's conditions made the nurses attempts to care for Kwajo's father near impossible.
As doom and gloom as the situation is, Kwajo has achieved great successes and you only have to scroll down his Twitter feed to see how quickly housing associations get busy once one of his videos uncovers the horrors they subject tenants to. I would question why people can't just do their jobs properly in the first place, a sentiment Kwajo echoes.
"I do get frustrated that housing associations and councils only do the right thing once they're forced to by bad PR and I think the reason for that is because with my situation it's different and I'm able to build a platform that allows me to hold them to account however there's thousands of tenants out there who are in similar positions to what I was who I know for a fact are ignored constantly."
The situation feels reminiscent of Marcus Rashford's food poverty activism. The starkest manifestations of poverty remain absent from public discourse, because the people affected don't have a voice. This highlights another paradox of Britain: the people most in need of political and media representation, are the least represented. I myself have to admit that I have often thought of Britain's housing failures within the context of home ownership becoming less attainable - a relatively middle class concern. The majority of journalists and politicians in the U.K. are middle or upper class, so it stands to reason that this is the prism through which housing discourse is seen. Kwajo's power lies in the fact that he represents people who have been marginalised for too long. I can feel that passion when he speaks in person. He's controlled and measured yet insistent. As showcased on Good Morning Britain, Sky News and all the other platforms he's recently graced. Kwajo receives emails from thousands of tenants, which really highlights the scale of the issue.
Whilst answering thousands of emails and running the U.K. news circuit Kwajo has also been studying for a degree in Business Entrepreneurship and Innovation. When we meet he is less than 24 hours removed from his final exams. His studies were staggered due to his father's illness and the pandemic. He says that his studies don't particularly inform his activism, but understanding social media's power and how integral it is to businesses has been crucial.
"The only thing that seems to work is disgracing these providers into carrying out the necessary works they should have been doing all along"

It's admirable that someone who has been through so much personally and seen such intense and widespread suffering hasn't become jaded. In person Kwajo is hugely friendly and funny. I do wonder if consistently being exposed to the plight of others takes a toll on his mental health. Selfless as he is Kwajo assures me that knowing he's making a difference to people's lives makes it all worthwhile. Genuine hope and observable progress is paramount for activism to feel worthwhile. Kwajo exudes both is spades. "As depressing as it is to see poor housing day in day out it's nice to see when there are situation of others doing good, being kind and wanting to help other people. That reassures me that there is good out there".
Kwajo's sense of humour is evident on his Twitter page. References to Nollywood and other internet specific gags underpin his campaigning in a fashion that has likely been integral to him cultivating an engaged and supportive following. There's a real "he's one of us" feel to everything about him. A far cry from the housing associates, MPs and councillors he often has scrambling. "I do have a meme bank ready" he admits "I've got hundreds of them ready and waiting to go". One victim of his sharp tongue is former Wandsworth lead councillor Ravi Govindia who claimed Kwajo's assertions about the state of housing in Wandsworth "bore no examination" adding that Wandsworth boasted "a 100% decent homes" record. Govindia's pride was to precede a seismic fall, as he was swiftly voted out in the recent local elections.
The whole episode was symptomatic of people in power's proclivity to gaslight and ignore the will of the people. The confidence relies on the premise that games of he said she said will always favour those with institutional power. Kwajo rebalances those scales. His wielding of the power of the internet, follows a blueprint that online activists honed over the 2010s. I ask Kwajo why on earth Ravi thought he was the one to play with, to which he responds "I don't know, it's a good question, I'd love to ask him that too...maybe he was on something? I'd love to ask him...or ask why he thought it was acceptable to blatantly lie in public and think that I wouldn't bring receipts because that's something I do have." Still, I'm sure unemployment will give Ravi ample time to reflect.
Despite taking to notoriety and responsibility like a duck to water, I do wonder if Kwajo has been overwhelmed at all. Uni student to voice of the disenfranchised in a year is quite the ascent. Describing himself as an introverted extrovert who does value alone time Kwajo doesn't mind the attention too much and appreciates the enormous outpouring of support. He remains unbothered by prospective scrutiny.
"Whatever I say is only the truth and it's basically to help others so I don't worry in that sense. It's strange because you don't know who knows you but being in the media, I quite like it..."
He probably benefits from his motivations being so altruistic. It's impossible to do anything without some scrutiny, but it's hard not to get behind someone who's sole motivation is helping others. Kwajo has been heartened by the amount of people who have no experience with social housing that have expressed interest and support. He explains the responsibility he feels to educate, from friends outside of social housing, to political figures. What unites everyone is their horror at what he has uncovered. "It does me hope that change can come about and with the work I've done I've seen others sort of go the extra mile to try and help me help others"
Kwajo has endured five years of studying, saying goodbye to his father and becoming the face of social housing reform. Our shoot date has been on the back burner for months due to his busy schedule. On the day itself, he arrives after an early morning Sky News appearance. When we wrap he'll be off to ready to speak at an evening event. Just thinking about Kwajo's life makes me tired. I'm hard pressed to think of someone more deserving of some rest and relaxation. Kwajo agrees and has some big summer plans. "I'm going to Ghana for the first time in about a month, which'll be interesting because I've never been before". Always focused, he regresses slightly "There's still so much work to do, it's not going to be finished or fixed overnight" . Before searching for a graduate job he's keen to ensure the housing issues he's campaigning for are dealt with to his satisfaction. I'm sure we'll be seeing a fair few Twitter storms if the relevant parties don't comply. "I hope changes come at government level and they take me and the work I do very very seriously because I do and I'm very determined for change and the right change to happen so I just hope they're on board and join me with that goal."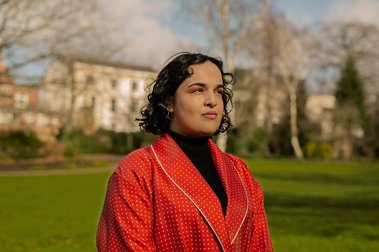 You may also like...
To mark International Women's Day this year, we headed to Nottingham to chat to the UK's youngest MP, Nottingham East's Nadia Whittome.
Wanna keep up to date with all things Sludge Mag? Sign up with your email address to receive updates on new articles, petitions and events.