Q&A with Kiran Samra
West-Midlands based artist Kiran Samra gives us her insight into what it means to be a painter in the 21st century. Her beautiful oil paintings have seen granted a residency in Switzerland as well as leading workshops closer to home
The astronomical expense of university in the U.K. since uni fees tripled under the Conservative and Lib-Dem coalition has undoubtedly made prospective art students more cautious. Whilst eye-brow raising fees and accommodation are enough to have any young person thinking twice, adding art supplies and precarious prospects post graduation to the mix makes pursuing a career in the arts somewhat audacious. That's why it's so important to showcase stories from normal hard-working people who went on to become successful and accomplished after following this route. Few people embody that model better than Kiran Samra. The West-Midlands based artist predominantly works with oil paints but it well versed in a variety of disciplines. Her work has seen her gain a residency in Switzerland, lead a workshop closer to home and perhaps most importantly - find sanctuary in the chaos of modern life. She was kind enough to take a break her studio to talk to us about how she got to where she is today.
How long have you been painting for and has oil always been your preferred medium?
I've been painting since school, I was the only one in my year who went on to study Art at University and then I continued on to do a Masters in Painting. Oils have always been my preferred medium but I did spend a few years over the course of my Foundation and at the Birmingham School of Jewellery working with other materials such as metals and fabrics. I tend not to use those mediums now but a lot of what I learnt about design definitely translates into my use of oil paint. Even though I never really knew too much about the technical side of painting, that's something that I'm still learning slowly, I find oils incredibly versatile and experimenting with them often leads to more work and ideas.
We know you just finished your MA, for younger artists considering the academic approach to art making what are the benefits?
The benefits were being surrounded by other creatives, both tutors and course mates, having the support of your department and taking part in group shows. There are so many opportunities to network and collaborate with others. The energy in a shared studio has such an impact on you as an artist and your work, in my opinion it was the conversations and environment that benefitted me over the use of special facilities. It saddens me to know how so many students have missed out that experience this past year and might do in 2021.
You convened some art workshops for a while. How did that come about and what did it entail?
A friend mentioned that she'd heard of some art workshops and she thought I'd be great at hosting them so I followed up and started. It was exciting taking a step in a different direction and learning the ins and outs of freelancing. The workshops are held in cool venues and are a great way for people to do something fun instead of the usual lets just go for food and drinks. It's so much fun experiencing people reactions to picking up a brush for the first time since school! I get groups, lots of date nights and some people just come alone as a way to do something nice for themselves. I absolutely love working with groups especially in a creative setting. Its been almost a year since being able to host unfortunately due to the pandemic but fingers crossed things will pick up again in the future.
Monetising art is arguably the most difficult element of it. Do you enjoy the business side of being an artist?
I do enjoy it, I mean I find the fact that anyone wants to purchase my work really exciting. I'm only just starting to navigate my way around the business side of being an artist, it's something you definitely don't get enough insight into at university. It's also a confidence thing, believing that you can make money from your work and I think that comes with time and experience. For me the most difficult part of monetising art is the conflicting advice out there. Being a painter there's always the pressure of having to walk those fine lines between taking a route that's deemed to be too commercial therefore devaluing your work and actually making an income from it.
We read you've done an artist residency in Switzerland! How did that come about and what does an artist residency entail?
One of my tutors was on a mailing list for the residency. At the time I was having ups and downs with painting and thought it might be a good way to refresh things a little. So I got in touch and within a month I was packing my suitcase. I had no idea what I was walking into but it ended up being an incredible experience. The residency entailed living amongst other artists from all over the world, removing them from their usual routines and surroundings. We had lots of conversations about making work and living as an artist. It was great to spend time with others and tap into their experiences. This particular residency allowed the freedom for you to spend your time as you wished, whether it be exploring, making, or just taking a step back to think about your work, no pressure or deadlines. I spent most of my time walking and then messing around with paints on scraps of wood in the evenings. With the focus being on my practice and its development rather than adhering to a marking scheme it was the first time I started to think about myself as a practicing artist rather than solely a student.
The U.K. (and wider world) is quite a dark place at the moment. Do you find making your art therapeutic?
Over the past year specifically, the constant influx of news and social media has been pretty overwhelming. I found that switching everything off and spending a few hours painting helped me to feel less anxious. The studio is usually where I end up if I'm feeling out of sorts. However the thing about therapy is that it's often tough and you have to consciously put the work in to help heal, and so in that sense yeah I suppose I do find making my art therapeutic.
Your work ranges from the abstract to the literal in the form of landscapes. Do you start a piece with a clear view of what you want the end result to be or does it evolve as you're painting?
My work often evolves as I'm painting, reacting to the way the materials are behaving or to any accidental marks that might happen. I tend to produce a number of paintings informed by one image, playing with the line between abstract and landscape and how far I can push it. I never have a clear view in my head about what the final piece might be, at the end of the day you can paint over it or start on a fresh surface but if you're too hesitant you might miss something interesting.
Do you think visual art has the capacity to change societal attitudes?
Honestly, my views on society as a whole are pretty bleak right now. If anything changes societal attitudes in the near future it would be nice if art has something to do with it.
Buy Kiran's art via her webstore
Follow her work on Instagram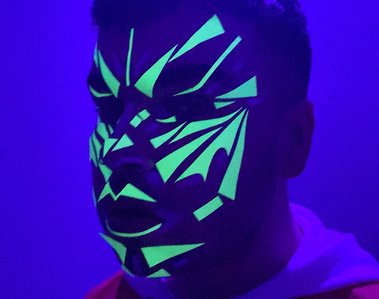 You may also like...
Fresh off season 2 on BBC3's Glow Up and a collaboration with Converse x It's Nice That we grab some face time with Berny Ferr. The London based make-up artist mixing upscaling and illustration in to his make-up work to great effect