Q&A with Karam Singh
Derby's crown jewel and the UK's first b-boy to become a Nike athlete, talks Olympic hopes and inspiration.
Since emerging from a backpack and being literally thrown across the stage at the world b-boy champions in 2008 with Derby based breakdance group Trinity Warriors, Karam Singh has gone from strength to strength solidifying himself as one of the world's most prolific b-boys. He's now outgrown the innards of that backpack and as a fellow Derby native I've had the pleasure of seeing his career develop first hand over the past decade. Even from this close proximity it's nearly impossible to account for all of his accomplishments. Got To Dance performances on Sky 1 as part of the aforementioned Trinity Warriors, then again in 2014 with Original Kidz. The Fruit Shoot TV commercial, the adidas advert with Paul Pogba, worldwide wins at various jams, Sky 1's Unmuted, trying to teach Jeremy Vine how to do a backspin (in an admittedly painful segment on his morning show where Vine evoked serious divorced dad energy), modelling for an array of high profile brands and so much more. In 2020 a lifelong dream culminated when he competed in Red Bull's BC one international breaking tournament. The experience was marred by Covid protocol and the result didn't go his way, but not to be deterred he got back to work and upped his training regime on the road to storming to first place in the Breaking GB WorldDanceSport Federation. Earning him a spot with Team GB at Paris 2024 where breaking will be a sport for the first time. Olympian soon to be added to the CV.
What makes his climb to the top even more impressive is that the man known for his signature dizzying drill head-spins has his head screwed on in all facets. Alongside his ascent he has also achieved a degree in Sports Coaching & Development and maintains his job in customer service at a call centre. His work ethic has seen him become an inspiration for up and comers in the city. On his Instagram stories you'll seem him training with local up and coming dancers at his famous garage turned studio. He is also the youngest ever recipient of a star on the Derby walk of fame. For me that's what's perhaps most impressive about Karam. Remaining embedded in our small city whilst conquering the world. Studying whilst navigating stardom. The worlds of entertainment, fashion and media are circus like but the balancing act Karam manages to maintain seems effortless. Read below to get to know the brain inside the b-boy.
Derby might not be a place people expect to produce a world renowned breakdancer. Can you tell us a bit about the dance culture here and how you got involved?
I initially started breaking in 2005/2006; my first unofficial contact with the dance/sport was in the streets with some friends. I saw some older guys doing six steps and the famous Booker T spinnaroony in the local park and I thought it was super cool. It kinda captured me and my friends in a way, we wanted to be able to do it to be cool, to impress people and to show off. For a young boisterous/mischievous group it was all about feeling like we were apart of something. Whether that was a gang or a crew.. its what kept us going. Around the time, I remember watching a music video at home and people were headspinning in the back. I said to my sisters as a joke "I'm gonna do that one day". The same week, I went to a local fun fair in which there was a stage with performers. My first ever crew, the Trinity Warriors were performing and I was mesmerised to see proper breaking live. I then asked them if I could join in, they allowed me to and I just went on stage and rolled around like a nutter. I then just followed the crew around everywhere they went for the rest of the day trying to learn and I asked them about classes; I was 7 years old at the time but the minimum age to attend was 8. I waited for my next birthday and as soon as I turned age I went to class .. the rest is history.
I think the dance culture here is as good as can be for a small city. The Trinity Warriors have been active since the early 2000's producing some of the best urban talent in the world. Their achievements are massive and the fact they're still going strong and currently have the best young talent in the UK in terms of quantity tells you everything you need to know. Its a very close knit culture but that in my opinion is an incentive to excel levels consistently. Everyone knows everyone which means everyone knows what you're capable of and we all celebrate that. With that being said, there is minimal opportunity within the city; no work, no competitions etc so we always have to travel outside to seek those.
You recently became the first b-boy to become U.K. Nike athlete. How does it feel to fly the fag for the breaking community in such a big way?
Firstly, I think that the status of being a Nike athlete gives myself definition, it gives the sport definition and it provides a lot of worth to what I do. There is only 130 Nike athletes in the UK and the fact that I am one of those alongside the likes of Marcus Rashford, Mo Farah & Emma Raducanu is special. This status allows me to wake up every day and feel good about myself, it provides the confidence I need to be my best physically and mentally. Being the first ever male to be a sponsored breaker as a Nike athlete also comes with a lot of pressure and responsibility but pressure makes diamonds. I know it opens the doors for many people around the world, people look at me as an icon and I am able to inspire the current and future generations in the sport. This is essential for me because when I slow down .. I want to help create a new generation of champs. I have the ability to be who I am with this status, and I've never felt more empowered in my life. This is the sense of belonging and this is why I started breaking.
Breakdancing's inclusion in the Paris Olympics could be on the horizon. A few high profile people have questioned the merit of it's inclusion. What makes something a sport in your opinion?
Breaking is going to be a part of the Paris 2024 Olympic Games and to me it makes absolute sense. It's the end of an era that was so heavily watched by young people. No Usain Bolt, Michael Phelps, Mo Farah... might limit the amount of young viewers. Breaking's inclusion fits Olympic and sporting aims because of how inclusive, urban and engaging it is to younger crowds. In 2018 at the Youth Olympic Games, breaking was the most watched Sport. To me, what makes something a sport is simply what its defined as; The definition of sport is "an activity involving physical exertion and skill in which an individual or team competes against another or others for entertainment". Of course it can be considered as a sport. People who cant look at breaking and consider it a sport are ignorant to what it actually is. They still think it involves busking in the streets and going crazy in clubs but we came a long way from that. I know a lot of people are mad because certain other established sports have not made the Olympics but that's really not our fault. It doesn't mean that they're not a sport, it just doesn't fit the Olympics aims.
Representing Britain would be a huge honour. What does being British mean to you?
To be honest, this is the first time I've ever been given this question and I've never really thought about what being British means to me. It is home to me, it is everything that made me who I am. Without being British, being from here and having the opportunities I do I wouldn't be a world champ and I would not have achieved the masses of great things that I have done. My biggest push and inspiration is 'the ends' and my upbringing .. I suppose that's a part of being British. Ultimately, I take pride in representing where I'm from .. my city and my country. I've done this for many years all over the globe and there's nothing that I take more pride in. Doing this on the Olympic stage/platform would be the greatest achievement of all and I'll give my everything for the country.
Breakdancing encompasses so many cultures and you travel all over the world doing it. Why do you think it has such a unifying effect?

It has such a unifying effect because its accessible to everyone. Breaking started in the streets as a sub-culture for other things. Although we've come a long way from where it started, you certainly don't need major facilities to take part. Its simply a form of expression and you really don't need much to express yourself through movement. It's a part of hip-hop and that's a universal language.. its a cultural gift to the world. No matter who you are or what you do .. there is nothing that limits you in breaking; that's what makes it beautiful for both spectators and competitors. It's refreshing, it's cool, it's competitive, it's art, it's music, it's sport, It's dance, it's fitness ... people will always be able to connect with it or through it in some way or other.
As well as prize money you've managed to etch out more revenue streams for yourself through modeling, events and more. When did you decide to actively try and build a brand around yourself and do you think we'll see more of it as breaking gets more popular?
I think looking at it I'm probably one of the most successful breakers to come out of this country in terms of being able to balance commercial work and winning major events. I feel like I'm breaking the stigma of it being one or the other .. I'm proud of that. In 2015/2016 things really changed me, I was at a point were things were not the best due to outside factors. I knew within myself that I wasn't the champ/cool guy that people thought. Like.. I knew I had soo much more in me and the most poignant thing was me telling myself that I cannot show off if I'm not really doing anything. At that point I kinda just sacrificed everything I was and everything I had for everything that I would become. I started to train like a machine .. I became a beast. I saved up some money from my part time job and booked to go to the USA to some of the best events in the world because I wanted to see what I had to do to be in that bracket and to have the opportunities I currently have. From that .. I became better and better, I started to win more, Improve my image and I became the brand I am.
Absolutely, there is going to be much more of it in the years to come. Breaking now has definition and worth. With it being in the Olympics, it can only get bigger and better. Nike is a prime example.. they've done their homework and they're ahead. For me, Nike is a dream come true but it's just a start, the opportunities are endless. For individuals and the sport as a whole .. there is a lot to come .. I can't say specifics but keep your eyes peeled.

A lot of people might not know that you have a degree and also still work in a call center. Where does your tremendous work ethic come from?
I don't know where it stemmed from. I sorta just became obsessed with being the best at everything I do; whether it's sales work, uni or breaking. For a long time there was a stigma in breaking that suggested breaking doesn't pay and that you couldn't actively do both (breaking & academics) at an elite level. Although it was hard, that was something that I wanted to break in order to inspire the generations to come. I think it's all about making the most of every single moment, my days are super hectic at times but I cherish them. Having so much to do gave my days and life organisation. I'm always looking to smash every task, be better on the next day and when I have completed goals; l look to set new ones. No matter what, we have to keep on moving because the game doesn't stop for no one.
When you secure the gold medal can Sludge Mag do another photoshoot with you, medal and all?

Absolutely! Sludge Mag will be the first to shoot with me when I bring home the Gold for GB!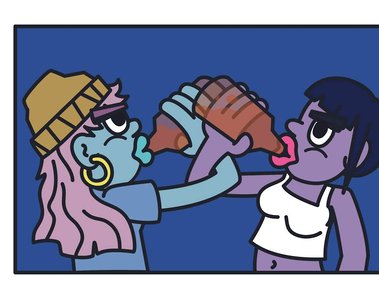 You may also like...
Following the hugely successful release of his debut zine Social Suicide we sit down with Carlton Matthews.
Wanna keep up to date with all things Sludge Mag? Sign up with your email address to receive updates on new articles, petitions and events.