Q&A with 1NE Derby
1NE Derby are taking all of the hassle out of the resell market. Championing community, collaboration and sustainability - this boutique store is the one stop shop for streetwear fanatics across the U.K.
Conscious consumption, sustainability and carbon footprints are all buzzwords becoming ever more associated with the fashion industry. As the environmental impact of buying clothes becomes more and more evident, buyers are being faced with questions about how to morally justify expanding their wardrobes. At the very same time; influencer culture, sneaker raffles and increasing collabs are making it harder and harder to stay abreast of the latest trends without fashion fans constantly loosening their purse strings. Now imagine there was a store that bought and sold hard to source streetwear, so you could stop wasting your time haggling over £2 on Depop. Where you could go in and find the latest Jordan collab without paying extortionate import and processing fees on StockX. Consistent raffles, in-store competitions like a discount for hitting a 3 pointer across the store, genius social media content produced in collaboration with the cities local talent. All in the knowledge that nothing you buy is contributing to carbon emissions because new clothes aren't being produced. You'd be hard pressed to find such a store outside of the bigger cities in the U.K. (the U.K. at all really) so you may be surprised to know that all of this is available to the people on Derby, in the East Midlands. We ventured from the Sludge Mag office to take a look for ourselves and had a chat with one of the stores founders to get the lowdown on this exciting new store.
What sparked the idea for 1NE Derby?
The idea for 1NE. was sparked from a mutual love of cool clothing and trainers and generally the enjoyment of the community based feel that goes along with the two. When people ask what we sell we generally say 'If we think it's cool we'll sell it' and it's really as simple as that.
You work with a lot of local talent. What's the importance of the store having a community feel?
The best thing about the store is the local feeling, we source all of our stock from local resellers and people from the community and bring it all under one roof. Further into the process we tend to use local talent as well as our customers in our shoots, this is purely to show appreciation to the community for supporting us because all of our marketing comes from word of mouth helping us to build a strong reputable brand in 1NE.

Derby wouldn't be people's first guess for the location of a store stocking high-end sought after grails. What're the pros and cons of running the shop where you do?
That's exactly why! people don't expect it, That's why we like to say we're Derby's best kept secret because hidden away in our little store we have absolute fire and when you walk up the stairs of the store you are fully immersed into what our community have built. The biggest Pro's of it are definitly the shock factor when people first find out about the store and the fact that we have a lot of support from our Home city, meaning word is slowly starting to spread around the Midlands. Another benefit of us being in a smaller city like Derby presents us with our selling point that you will not bump into anybody wearing your fit in the city because each piece is truly a one off.
Resell culture and trainer restoration is great for the environment. Could shops like yours be the antidote for fashion's huge carbon footprint?
I really hope so! We pride ourselves on being sustainable and generally ethical in how we do business, from New Life Kicks literally bringing old trainers back to looking brand new and us reselling older clothes and trainers means the shelf life of products increases along with the benefit of our community sharing a sick wardrobe..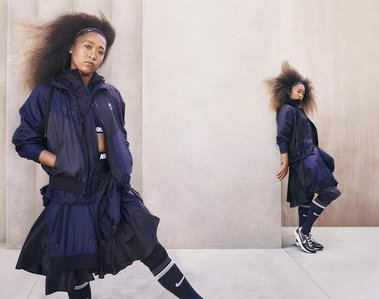 You may also like...
As the Christmas period beckons, a myriad of luxury collaborations are set to hit the shelves. We interview fashion polymath Vincenzo Borrelli to unpack why we are seeing such an influx of collaborations between established fashion houses and streetwear brands.