Jimi drops wavey visual for "Brandy belly"
We were even lucky enough to get some words from the Killa himself explaining the motifs behind this Ted Loco & C4 produced summer banger, read below:

"Brandy Belly, if you go and drink half a litre of brandy then you will know exactly what im talking about. I'm really not trying to promote alcoholism but sometimes you have to celebrate greatness and my way of doing that is indulging in some fine cognac."
"This song is for the the wave, whether thats pre-drinks or just getting the bevvies in with the lads at the weekend - have some fun! You can even change the lyrics to suit your preferred drink, I caught my Mum signing Prosecco Belly the other day, thats great banter."
"Visually, it's exactly what you see. I started the day by copping a bottle from the bossman then we literally hit the Derby streets with the bottle of Courvoisier on deck. My aim for the subtitles was to emphasise the fun element of this project, almost like a karaoke allowing all the mandem and gyaldem to get involved and sing along."
"Moving forward, i'm going to be dropping content way more consistently so I can start to build some momentum. I've got numerous bangers in the vault with some features too which I'm gassed to release, including the Brandy Belly remix, c'mon! Im really excited to see what the next couple of months bring for real."
Directed by Local Geezers frequent collaborator Rufus Wilson the video sees Jimi Da Killa meandering around the Derby streets, marketplaces and shops - showing us all there is never a bad place to get Brandy Bellied.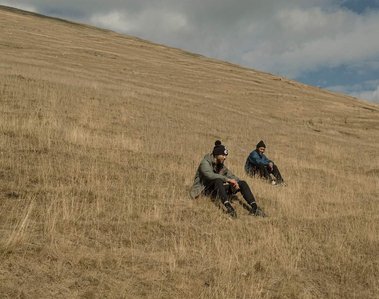 You may also like...
After a super strong 2018 thus far with the release of their Make The Jump EP following on from their album Planet Good Batch, shows up and down the U.K. and a new podcast in which they interview creatives from producers to photographers; the Local Geezers (Jimi Da Killa) & (Wiz) are very much in the ascension. Hailing from Derby in the East Midlands