High Karup$hin drop new album Guerrilla Glue
Following on from their 2015 project DBOAN II, Connecticut based trio High Karup$hin are back with their new project Guerrilla Glue. We sit down with members Bvby $lurge, Txgh-Dye and F$A Phantom to get the lowdown on the groups spooky production, the groups interesting knack for making joint paintings and the future of Connecticut rap scene as a whole.
The new project Guerrilla Glue is super impressive, what were you trying to get across artistically with this project as a whole? Thanks a lot. Guerrilla Glue was a lot like an autobiography for us. We were expressing some of the trials and tribulations we've been going through and still are going through today. Aside of it all we are one. Much like the phrase we are "all we got.", hence the name Guerrilla Glue. The title represents our unity.
As a trio, what are your individual roles in the group?
We certainly all bring different things to the table. Which is a blessing and most of the times it makes things easier on each other, and other times it can result in collision.
Bvby $lurge is relative to the heart of the group. He brings an immense amount of passion to the movement, and that carries over to the music as well. He's certainly a visionary, though the same can be said amongst the whole group.
Txgh-Dye much like his name brings a lot of color to the group. His fashion, catchy flows, and sense of what's "popping" really separates him. He brings a lot of artistic ideas to the table and is really fun to be around.

F$A Phantom is really low-key, especially when it comes to social media. Little do people know he's a talented producer. On the other hand he is a blast to meet in person and really keeps the vibes alive. Super chill, but even more ambitious. He's always up to something, always has a trick up his sleeve.
We know you've been steadily building an underground following, but for our readers who may not be familiar with you - what would you say you bring to the rap game as a trio that sets you apart?
We are always looking to push the envelope, especially when it comes to sound. Just when people think they have us figured out we switch it up again. For example from DBOAN II to our latest Guerrilla Glue, you would not and could not have guessed. You can expect the same from us project to project, song to song. Naturally our scope always leads us to breaking barriers. We haven't even scratched the surface yet. Ask us the same question again in a year, a lot of things will be different.

The current project follows on from your 2015 project D.B.O.A.N. II, what's changed since that project and how do you feel you've developed as a unit since then?
DBOAN II was more than anything an learning experience. We've learned a lot about the music business and even more so about business itself. The project was very raw and it was pure expression. Our approach since has become more calculated. We've really grown a lot in all aspects. We've become more cohesive, and better understanding of each other on a personal, music, and business level. In turn we are much stronger as a group. We are in constant evolution, and our work will always be true to it's time.

Different parts of the U.S. are known for their influence on rap culture as a whole. For example Atlanta, Chicago and New York always evoke thoughts of certain sounds. Would you say Connecticut where you're from has a specific sound?
It really doesn't. Connecticut is in a time where it's a lot like an artistic revolution. There's a lot of diversity here and that is something that will keep Connecticut from ever having a distinct sound, and that isn't necessarily a bad thing. On a end note, Connecticut has a lot of talent and only time will tell how Connecticut is viewed in a broader perspective. Time will tell..

On your Instagram we can see some paintings. Do you work as a group on them and what's the importance of exploring other art mediums besides music to you?
Yes, we work on them at the same time. The process is very free. We hit the canvas, no words, and we let the creative juices flow. We paint over each other's work and talk about what we see in each other's contributions. If you pay close attention, our paintings are like pieces inside of pieces. In all honesty, we see no importance in exploring other mediums. Art is what we love, and we simply do what we feel. We truly admire art as a whole. With that being said, we genuinely love all types of art. Expect to see more art, across more mediums. Clothing may be our next big splash.

How open are you to outside collaborators? Does it muddy the creative process trying to introduce another person to a trio? We usually don't collaborate too much when it comes to recording. We've definitely collaborated a couple of times but never really released. It's either a hit or miss. When we do collab it's definitely more of an "on and off" approach. In other words, someone comes in for a couple bars, than someone else.. back and forth, etc. We have to cut verses down a lot when it comes to collaborating. If not managed correctly even with just our own songs (3 of us), it can seem like a long cypher instead of an enjoyable track. We've been experimenting with only 2 of us on a track, or 1 of us, instead of 3 every time and it's definitely more interesting and something that will be seen more in the very near future. It's all about making the best work. Less is more a lot of times. Especially in a time where attention spans are at their all time low.
A lot of your photos and videos utilise neon against nighttime backdrops, and your production is quite dark and merky sometimes. Is darkness an intentional motif behind your music?
Well, the darkness isn't always intentional. Our first project was certainly dark as it was dark times. It was a reflection. As all of our art is. The dark that the audience may see now is a different kind of dark. It's a reflection of how our art and approach is somewhat "serious". Hard to put into words. Some artists music come off as funny almost satirical, some make love type of music, etc. Every artist has their own aesthetic. We just try to make hard shit.
You're certainly succeeding on that front, thanks for speaking to us!
Thank you for having us and we look forward to staying in contact and connecting again soon. There will certainly be more to talk about.
To keep up with High Karup$hin check out their Soundcloud, Spotify, Instagram and Twitter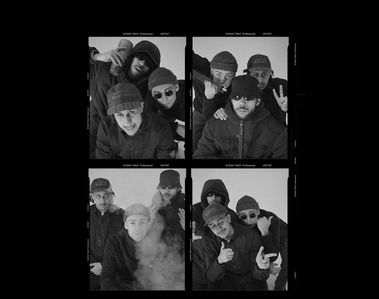 You may also like...
After releasing a snippet of an unheard track in collaboration with fellow Derby native Ashley Hunt of Hunt's Emporia for Depop, Local Geezers fans have been chomping at the bit for the release on the mysterious summery track. Now finally "Geez Way" is here.