How the cost of living crisis is taxing aspiration
Youth worker Nathan Tuft investigates the impact the cost of living crisis is having on young people's aspirations.
The current cost of living crisis is affecting us all. No one more so than young people, with reports from various sources showing a rise in mental health issues, a growing dependency on food banks as well as impact on young people's aspirations towards their future. In late 2022, statistics from UCAS showed that the number of young people applying for university had dropped for the first time in over a decade and The Prince's Trust Class of Covid research found that more than 60% of 16-25-year-olds said they were "scared about their generation's future", having lived through a pandemic only to face a cost-of-living crisis. One in three young people also believe their job prospects will never recover from the cost of living crisis. But what does this look like on the ground? - I spoke to youth facing professionals across the sector.
"Although financial anxiety is at an all-time high for all, it's particularly difficult for young people since they are making vital decisions at a crucial point in their lives".
A report from the Open University found that 35% of 18-24 year olds surveyed have had to rethink their career plans because of the cost-of-living crisis and 56% plan on taking extra courses in a bid to better their skill set and knowledge.  Some key cost-of-living related reasons putting young people off going to university included: worries about debt they can't afford to pay back, study work balance for those who would have to support themselves through university and, the allure of full-time work in a climate where immediate guaranteed income feels so crucial.. For those ready to go straight to work there is a feeling of disenfranchisement from working – due to a sub-par minimum wage which does not make coming off benefits worthwhile combined with the additional costs of working such as transport and buying uniforms. Jamie Fox, Engagement Manager at Reed in Partnership flags that young people feel a sense of hopelessness when thinking about their future. Working directly with schools, Jamie says
"school staff, Careers Leader in particular, are wary of selling the idea of university or an apprenticeship/internship/training programme with a cost to a student who can't afford it".
With a lack of options provided by school and college and parents unable to support - a recent report stating that 34% of parents said they've written off the idea of university for their child because of associated costs and 44% saying they were initially planning to financially support their child through university but can no longer afford to do so. There are also signs that young people are prioritising salary over passion when it comes to future career prospects. When asked what industry they now wish to work in compared to their desired field, accounting and finance saw a 57% increase, whilst creative and design saw a 30% decrease. The creative industries are also becoming less attainable. There is a huge decline of working class people in the arts. Lucy Nicholls, Education Programme Manager at Roundhouse feels that
"young people are suffering from both a lack of access to creativity in school and rarely seeing real-life examples of professionals demonstrating how they can turn their creativity into a viable livelihood, either on and off the stage"
Institutions such as the job centre, which has seen a boost of funding to increase support for young people have been called out by young people as "unhelpful" and "uninterested". Increased sanctions have also had an impact on benefits received by young people as well, further widening the gap to support. Changes to the way young people view the world will be felt for many years with Yinka Sobande, Access Participation & Outreach Coordinator at ICTheatre saying that motivation is at an all time low and questions how to keep young people "fully immersed and focused whilst knowing the wider professional landscape is struggling". It's clear that the current government isn't concerned about this issue. While schemes such as the council tax rebate and local authority initiatives have been put in place, young people aren't suitably informed. Michelle Allen, Enterprise Co-Ordinator at Unitas Youth Zone echoes this with many of the young people people she's working with not having the full access to opportunities:
"Some young people are not fully aware of what is available and how to obtain up to date information and information that is suitable according to the level they are currently at".
She favours investment at a grassroots level, investing in young people and educating them about future choices from an early age. This could be looking to take shape, with the government's new requirements for schools to provide 13-18 year olds 'strengthened careers advice' through meeting a range of providers, understanding the full range of opportunities available to them and most importantly, the qualifications and skills they will gain. But with a report in 2022, #YouthMisspent stating that only a quarter (26%) of 18-24 year olds believe that the government is doing enough for them to get into work, it's clear that more work needs to be done to engage young people in the conversation around their future. Matt Dixon, HAF co-ordinator at Young Barnet Foundation mentions that perhaps
"we are asking the wrong questions like 'What sector do you want to work in?' of which the answer is always 'I don't know'. We need to start asking questions like 'What problem would you like to solve?' in the hope that this at least gets them thinking about the right thing"
From every professional who contributed to this conversation and to the hundreds more across the country, the challenges are clear and the barriers are being addressed on a variety of levels. One key theme from all was the idea of optimism and how they can play a key role in the change but this needs to be supported by a systemic change.
Article by Nathan Tuft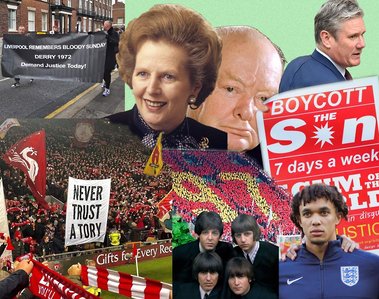 You may also like...
Why I refused to celebrate the Queen's Jubilee and why the Tories will never be welcome in the 'Scouse Republic".
Wanna keep up to date with all things Sludge Mag? Sign up with your email address to receive updates on new articles, petitions and events.