Students - customers when it's convenient
The Toll of Coronavirus on University Students and How They Are Selectively Treated as Customers of the Private Sector
"Opening universities is critical again for students' life chances" is what Boris Johnson expressed in his briefing in September 2020. Universities continued with their usual enticing advertisements to persuade eager applicants, like myself, to choose their university and experience student life. Currently organising a rental strike and having not seen my family since September, I am questioning how we could have ever been sold such an experience. In 2018/19, UK universities hit highs of £2.4billion of income. Alongside this, accommodation companies, such as Unite Students, saw profit highs of £305million. Despite the supposed concern for 'students' life chances' from Boris Johnson, it is difficult to view students as simply students in the eyes of the government when the private sector is gaining so much from them as customers. The higher education sector is a business, generating this much revenue, and eager applicants are their top consumers. Perhaps the opening of universities was not so 'critical' for students' life chances after all, but more so critical to ensure the filling of the private sector's pockets.
University life is one of the core pillars to British youth culture. It is pitched as a life-changing experience full of new surroundings, individuals and life lessons to learn – plus cheap booze and an endless array of nights out and flat parties. It is excitingly enticing and, as claimed by Johnson, it gives us job prospects. When COVID-19 hit, this pitch seemed out of reach for many hopeful applicants applying for September 2020 enrolment. However, as August provided us with some sense of normality and the euphoria of familiarity began, it felt like the government got carried away. Cases had lowered, but their ignorance to a second wave grew as Coronavirus gradually began attacking the generalised age group of students. Applicants enrolled for the promised fulfilling student experience – something that was taken from the hands of students the previous Spring. £9250 on tuition fees and an average of £4,900 on student accommodation later, and things weren't as enriching as they seemed.
It is evident students have been penalised from this moment onwards. Their once desirable university halls now had silver fences around them in Manchester. I found myself contracting COVID within a week of my move to University, despite following guidelines vigilantly and health risks being described as 'low' by the prime minister. The mass COVID spread in my halls of residence was disregarded by our accommodation provider, despite hundreds of us contracting the illness faster than we could comprehend. Food was inaccessible and staff were in fear of delivering online orders to our doors due to the lack of protection offered to them. We were, however, delivered a 14-day isolation period with flatmates we had known for just four days in box rooms with un-openable windows. Then, when this was over, there was uncertainty on whether students would be allowed home for Christmas, and even when the Christmas travel block was introduced, hundreds had to remain at university for work purposes and could not travel back in accordance with the sudden change of Christmas regulations. All of this alongside the fact this was many student's first time living away from home, with people they had never encountered paired with the usual unspoken anxieties of starting university.
We now sit in Lockdown 3.0, with students split between their homes or halls of residence with the government insisting they do not change location. Many have not seen their families since moving to university, whilst others are stuck at home with empty halls of residence still charging full rental charges. Learning is completely remote despite being promised a fulfilling student experience. Boris Johnson did not acknowledge university students in his briefing on the 4th of January. The once top customers of private organisations backed by the Tories, are now neglected and completely in the dark, living a life they did not sign up for. Where is the customer service and protection? Where is our returns policy? You cannot treat individuals as your customers and then forget their existence as soon as they are sold. Some universities have offered partial rent rebates for students, whilst those in private accommodation are left gripping onto rental strikes, risking their legal tenancy agreements, to try and get fair humane attention. It is clear that students have been selectively treated as customers when it has suited the private sectors best. We are paying for rooms, in-person tuition, libraries, tutorials, mental health support and hospitality, all of which are invisible. We are being failed by the businesses we hold up, as they portray us as monsters for campaigning for empathy and attention.
However, whilst those of us trapped at home are suffering, there are students in other extremes, who are unprotected and overworking themselves on the frontline. Third-year student nurses are facing an opt-in/opt-out scheme introduced by Health Education England which offers them two completely unstable options. Student nurses can either be deployed onto Coronavirus wards, or they must suddenly postpone their studies for six months, meaning Student Finance England will no longer support them financially. Those that choose to risk their health to work on COVID wards are also completely unprotected by life insurance as students and receive underpayments for their work. Whilst those who have to postpone their studies due to fear or personal reasons lose their financial support abruptly from SFE. A third-year student nurse anonymously told us:
"Student nurses are expected to adhere to the value of the five C's of nursing: Commitment, Care, Compassion, Competency and Courage. As student nurses, we don't feel like these are being reciprocated by the government or public."
Seemingly, student nurses can either be fitting for the government's needs by putting their health at risk, or they are abandoned, despite paying full tuition fees and, for some, being in term long tenancy agreements. It is important to raise the fact, there is a lack of choice here for many. The system may be opt-in/opt-out but there are individuals being forced into risking their wellbeing due to a lack of financial support from the government and no other feasible options available to them.
"[There has been] no talk of reimbursement, despite the heightened risk and impact on our education due to working on COVID wards. And I wouldn't want that money to come from the university because that'd negatively impact future nursing students. People need to be looking at the government, as they're the ones with the power to make meaningful changes."
Once again, the silence of the government on this issue has been deafening for students. Those that are portrayed as the student heroes of this pandemic have received nothing but a round of applause on a Thursday in return. With no talks of reimbursement, protection or acknowledgement, students are having to anonymously reach out to news outlets and campaigners out of fear that speaking out could impact their grades or job prospects. It is immoral that 'customers' of the higher education sector have been pushed into this position, unable to communicate their needs out of fear for their futures. Students, as money-making commodities to the Tories, are in a position of impotence due to the powerful private sectors demoralising and mistreating them. Although horrific, the pandemic has exposed the 'trying their best' government's true intentions and it is astonishing how it continues. So, now we wait and see if the rental strikes and youth gain the attention they deserve. Will the Tories prioritise education and health of students and educational staff whose votes they continuously fight for? Or will their money-motivated actions take the top spot once and for all?
Article written by Dani Murden
Follow Dani on Instagram
See more of her work via her Blog
Follow her blog's Instagram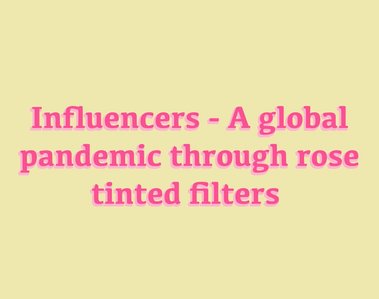 You may also like...
Hannah Kitty Brownbill explores how luxury getaways and designer goods has made the lockdown harder. With insight from students and NHS workers.