Meet Amel Mukhtar, the British Vogue staffer bringing political activism to the forefront
After successful stints contributing to GQ and Cosmopolitan Amel Mukhtar was appointed features assistant at British Vogue earlier this year. Since then she has penned unapologetically politically conscious articles on a range of issues from the media's response to the Christchurch massacre to the women at the forefront of the Sudanese revolution. Amidst this insightful political commentary don't be surprised to find her still finding time to ponder the new series of Big Little Lies and the artists of the summer to look out for. We were lucky enough to shoot and interview this important emerging voice.
Amel wears hat C.P. Company. Coat Topman. Shoes Fendi. Ring model's own
Since joining Vogue as features assistant you've certainly made an impact, particularly with your documentation of the media rhetoric surrounding the Christchurch massacre and the Sudan conflict. Have you been surprised by how well your work has been received?
It's nice to hear that because part of you always feels like you're not achieving enough, although the rest is surprised anyone reads or responds at all. I was definitely taken aback by the attention the second piece on Sudan received. Getting people outside of the continent to care about African news isn't easy, the flood of additional eyes came as activists got #blueformattar and #blueforsudan to go viral and force global attention to the revolution and abuses. It was bittersweet glimpsing some of the psychology behind what it takes for people to engage but primarily I was glad I could be a conduit for the voices of Sudanese women at a time when people were listening.

How do you find the office culture. Are there any Devil Wears Prada-esque dramas?
Nothing beyond the minor drama you get in any workplace. Everyone is so friendly and chill, it's not the stereotype! As well as a great team I think it's the time too, there's a trend that spans industries for greater compassion and inclusion and no tolerance for toxic work environments.
Amel wears collar J.W. Anderson. Sweater Uniqlo. Skirt Fendi. Handbag Coach
What's your process when you write? Do you need to be in a specific place or environment?
My process is to get out all my ideas badly, just eject everything I am thinking so I can see all the ideas I'm working with and it's less daunting to start. Then I write more, edit, rework, restructure, edit and edit until I'm as close to satisfaction as I'll get. The biggest struggle is there's no hard end. You're never finished until you decide to be. It's hard for me to just draw that line and be done and happy. I try to write as much as I can at my desk. The days that I sell myself the fantasy of writing at home in bed never go to plan because by then it's the last thing I want to do. I'll end up watching YouTube trash until panic forces me to work until 5am twitching with cortisol. In the office, I'm there to work so it's not difficult to do it. Some days the creativity doesn't flow but at least the focus is there and it makes progress.
As features assistant your writing isn't necessarily surrounding fashion. Do you have a particular interest in fashion?
I'm into fashion but I'm a dilettante. I love clothes, accessories, seeing the shoots, looking through the fashion cupboard, seeing style all over the world, creating my own. But don't expect me to recognise which collection a piece is from.
Why do you think it's important for a magazine like Vogue to cover other elements of contemporary life?
Even if it tried to be solely fashion-focused, you couldn't cover it intelligently without the interlink with culture, history, politics, art, etc, there are no pure subjects... except maybe maths. But as a womens' magazine first and foremost, it should reflect their multifaceted interests. And especially with the platform it has built, it needs to engage with the world on all different levels — and it was able to build that platform in the first place because it did.
Amel wears t-shirt Valentino. Trousers Gucci. Beret vintage
Do you have total freedom in terms of what you write about?
Well, no effective publication could ever come with total freedom because it needs boundaries to be cohesive. But I feel very comfortable pitching the topics I want to talk about and there is always open dialogue about what works. If it's an idea that is not quite right, it can be refined until you find the angle that makes sense. Sometimes you have bad ideas, sometimes they just need work, sometimes they're great but you have to sell it, sometimes it's a straightforward yes.
It's great that as a black woman you're shining a light on issues that might otherwise not see the light of day, but does being a black woman in that space ever feel like a burden to be the spokesperson of political issues whereas a white or male counterpart might have a more lighthearted workload?
Personally I don't feel that way because I'm grateful to be able to do so when I can. They are subjects I'm invested in, so although it can feel intimidating when the stakes are high, I naturally want to speak about them and that's why I choose to do so.
Amel wears scarf Chanel. Dress Fendi. Trainers Ali Express. Sunglasses SET
Working such a fast paced job it must be important to have the right music to wind down to, or turn up to when you get a free night. What musical projects or artists are you feeling at the moment?
Man, so many! Tierra Whack, Blood Orange, Rico Nasty, MIKE, Buddy, Slayyyter, Burna Boy, Jean Grae, DaBaby, Rosalía, and Megan Thee Stallion are some of the first to come to mind. And I'm impatiently waiting on new FKA twigs and J Hus albums.
Keep up with Amel's work via her profile on British Vogue and her Instagram.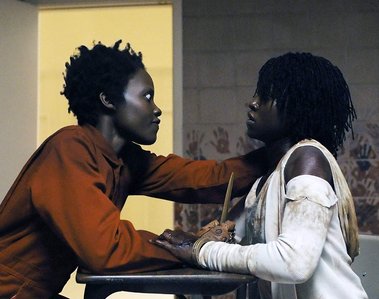 You may also like...
Writer Tariyé Peterside gives her reading of Jordan Peele's new blockbuster 'Us' and how it pertains to the black diaspora experience in the U.S. and Africa